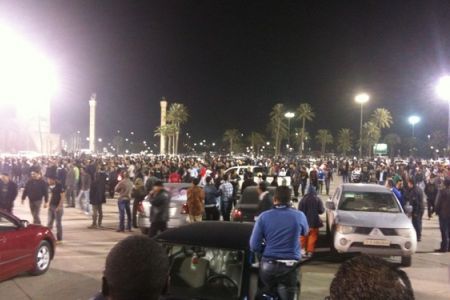 At least 84 protesters have lost their lives and hundreds wounded in Libya in three days of pro-democracy protests in the African country, Human Rights Watch (HRW) says.
According to HRW, security forces killed 20 people in the eastern city of Benghazi, 23 in the eastern Libyan town of al-Baida, three in Ajdabiya, and three in Derna in a matter of days, Reuters reported.
In addition, 35 people lost their lives in Benghazi on Friday, nearly all with live ammunition, said the Human Rights Watch, adding that it has compiled the figures based upon telephone interviews with hospital staffers and witnesses.
It also hit out at the crackdown on protesters in Libya, saying "The Libyan authorities should immediately end attacks on peaceful protesters and protect them from assault by pro-government armed groups."
Anti-government protests sparked by the popular revolutions that deposed long-serving rulers of neighboring Egypt and Tunisia have engulfed Libya this week with thousands of people flocking the streets of the eastern city of Benghazi, and calling for the ouster of Libyan leader Muammar Gaddafi, who has been in office since September 1969.
On Friday, protesters camped out in Benghazi, which is about 1,000 km (600 miles) east of Tripoli to join funeral processions for at least 24 people who, according to HRW, were killed in demonstrations on Wednesday and Thursday.
In another sign of growing disorder in Libya, about 1,000 inmates broke out of a prison in Benghazi, and three convicts were killed by security forces when they tried to flee another prison outside Tripoli.
Gaddafi's regime vowed on Friday to strike down attempts to challenge the Libyan leader, after an opposition "Day of Anger" turned into a bloodbath that killed scores of people.
Meanwhile, Gaddafi's supporters held a pro-government rally in the capital, Tripoli. The 68-year-old leader reportedly attended the rally.
The human rights group Amnesty International has also urged the Libyan government to stop its crackdown on peaceful demonstrations.
Gaddafi came to power 41 years ago in a bloodless military coup. Speculations are rife that he has held emergency talks with the country's top officials amid growing concerns that the ongoing protests could presage similar revolutions in Egypt and Tunisia.