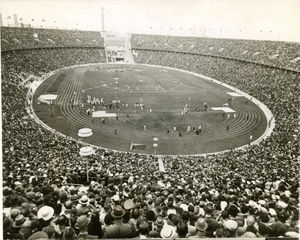 An Australian filmmaker has discovered two perfectly preserved 3-D films the Nazis made 75 years ago as part of their propaganda machine.
Tucked on a shelf in the Federal Archives in Berlin, the 30-minute films were part of "the Nazi effort to control minds," Philippe Mora told the Star on Thursday.
"It's scary stuff. They were more advanced at doing it than we even knew."
As part of his research into a documentary on how Nazi Germany's Third Reich obsessively recorded itself, Mora discovered an intense fascination with 3-D imagery.
"It was a huge fad in Nazi Germany. They had 3-D magazines. They shot everything, the Olympics, everything, on 3-D film, as well as regular film."
Persistent digging led him to the 1936 black-and-white "documentaries"
So Real You Can Touch It
and
Six Girls Roll Into the Weekend
, both of them "hilarious, but really, really creepy."
In essence advertisements for the glories of living in Nazi Germany, the films show young, attractive people singing, dancing, barbecuing bratwurst, camping and riding around in Mercedes-Benz cars.

"No wonder the Germans didn't know what was coming," said Mora. The films are "completely non-political but highly political. It's all, 'What a fantastic time we're having.' "
Unlike Hollywood's 1950s 3-D movies, which used two projectors, the Nazi version used standard 35-millimetre film cut in half into a split-screen. When it was projected, a prism would combine the two images.
"I couldn't believe the quality," said Mora, who is himself finishing off a 3-D movie about Salvador Dali that requires sophisticated digital technology. "This is bloody amazing that they did this so simply and so well. It's beautiful, crisp imagery."
Mora's first film,
Swastika
, in 1973, stunned the world with never-before-seen colour "home" movies shot by Adolf Hitler's mistress, Eva Braun, in the Bavarian alps.
The 3-D films remain in the archives but will be screened at some point. They also will be included in Mora's Third Reich documentary, which should be finished next year, he said.
And there are likely more of them in Germany, or captured and taken to Russia, Mora said.
Ironically, he first disclosed the find during the Berlinale, the Berlin film festival, this week, where filmmakers worldwide were rolling out 3-D movies.
"Everything was 3-D in Berlin," he said. "It's the fashion. I wanted to say, 'This ain't new.' "