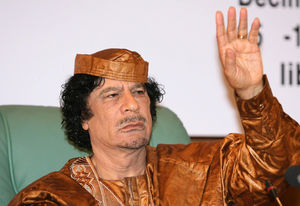 At least 24 protesters have been killed and hundreds wounded in Libya during anti-government demonstrations, demanding the ouster of Muammar Gaddafi, Human Rights Watch (HRW) says.
Thousands of anti-government demonstrators have flooded the streets of Libya's eastern city of Benghazi, as the wave of protests spread across North Africa and the Middle East.
Clashes have been reported between security forces and protesters. In the nearby eastern town of Benghazi al-Baida, people were bringing tents to camp out on the streets, Reuters reported on Friday.
Some pro-government activists have also been reported on the streets shouting slogans in support of Gaddafi.
In defiance to warnings by government forces against demonstrations, thousands of protesters took to streets of Benghazi and al-Baida on Thursday. At least six people were killed and more than forty were reported injured.
The protesters, inspired by the recent revolutions in Tunisia and Egypt that unseated two long-time authoritarian rulers, have been demanding the ouster of the despotic rule of Gaddafi.
HRW has issued a statement on the recent violence in Libya, saying "Libyans should not have to risk their lives to make a stand for their rights as human beings."
Meanwhile, human rights group Amnesty International has also urged the Libyan government to stop its crackdown on peaceful demonstrations.
Britain and the European Union have urged the Libyan government to avoid violence and demanded that it allow "free expression."
Gaddafi came to power 41 years ago in a military coup. Sources say he has held emergency meetings with the country's top officials over fears that the massive protests there might lead to his overthrow.