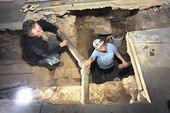 Archaeologists peeling back layers of history beneath the historic Lloyd Street Synagogue in East Baltimore have uncovered what is believed to be the oldest Jewish ritual bath complex in the United States.
Hints of the presence of the 1845 bath, or "mikveh," were first detected during excavations in 2001. But further digging this winter has revealed about a quarter of a five-foot-deep wooden tub, and linked it to a related cistern found in 2008, and to remains of a brick hearth once used to warm the bath's water.
"The idea of a ritual bath complex helps fill out the history of Jewish religious practice in this country," said Avi Decter, executive director of the Jewish Museum of Maryland, of which the old Lloyd Street Synagogue is now a part. "This is a very ancient practice, going back thousands of years."
The 1845 mikveh is just a few feet away from a pair of more modern, tile-lined baths, built and used by the Shomrei Misheres Orthodox congregation that used the building after 1905.
The Lloyd Street archaeological excavations are being led by Esther Doyle Read, a lecturer in ancient studies at the University of Maryland, Baltimore County, and her students. They are funded by the museum, the Maryland Historical Trust and UMBC.
Read said mikvehs were a central part of Jewish life at the time, where men came for ritual purification before Friday prayers; women came for ritual cleansing after their monthly periods, and converts were purified before entering the faith.
"It was a very busy place for this small community of German immigrants," Read said.
Barred by Maryland law from incorporating and owning property until 1828, she said, Jewish congregations would typically meet in private homes, where they would build their mikveh in the basement.
The mikveh excavated this winter appears to have been one of those. It was in the basement of a rowhouse facing Morton Street, near the intersection with Lloyd Street. Records show the mikveh house was already present in 1845, when the congregation built their synagogue on an adjoining lot facing Lloyd Street. The neoclassical building was designed by Robert Carey Long Jr.
No mikvehs have been found at any older synagogue in the United State.