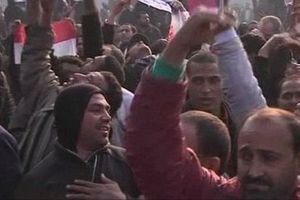 Egypt's army has threatened to arrest protesters in Cairo's Liberation Square where, despite clearance orders, citizens are still massed, refusing to leave until their demands are met.
The pro-democracy protesters have been cordoned off by police and military soldiers, reported a Press TV correspondent on Monday.
The protesters are demanding a clear timetable for the transfer of power to a civilian government.
They have called on the army to fulfill its promises following its takeover of power.
This comes as Egypt's military has refused to answer the protesters' call for a swift transfer of power to a civilian administration, saying it will rule by martial law until a presidential election is held in September.
The army's announcement, which included suspension of the Egyptian constitution, was a further rebuff to some pro-democracy activists after troops were sent to clear demonstrators from Cairo's Liberation Square, the center of the protests that brought down President Hosni Mubarak.
"We do not want any protesters to sit in the square after today," said the head of the military police, Mohamed Ibrahim Moustafa Ali on Monday.
The ruling military council said it intends to retain power for six months or longer and govern by decree while the presidential election is being scheduled.
It suspended the constitution and said a committee will draw up amendments that will be put to a referendum.
It also dissolved the country's widely discredited parliament, elected in a tainted ballot last year.