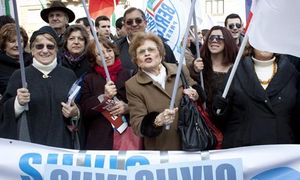 Beleaguered prime minister due to meet president as judge prepares to rule on indictment allegation
A beleaguered Silvio Berlusconi is due to meet the president, Giorgio Napolitano, for urgent talks on Friday as tensions grew between his supporters and opponents over the prospect of his being committed to trial on sex charges.
The prime minister claimed in an interview he was the target of an attempt to oust him by undemocratic means. But any hopes he may have had of getting his position endorsed by the head of state were dashed when Napolitano pointedly remarked that Italy's constitution included "the guarantees for a fair trial".
Demonstrations are to be held on Sunday in 257 Italian and foreign cities, including London and New York, in defense of the dignity of Italy's women. The slogan for the rallies comes from the title of Primo Levi's novel of wartime resistance,
If Not Now, When?
Followers of the prime minister are planning to take to the streets of Milan on Saturday. On Thursday about 100 Berlusconi supporters, led by a junior minister in his rightwing government, staged a protest outside the courthouse in Milan where Berlusconi may be tried. Some carried placards reading "Silvio must resist, resist, resist".
A judge in Milan is expected to rule next week on an application from prosecutors for the prime minister's indictment on charges of paying a juvenile prostitute and abusing his official position to cover up what he had allegedly done.
Investigators have compiled almost 800 pages of evidence to support their claim that Berlusconi hosted sex parties at his home outside Milan, several of which were attended by a 17-year-old Moroccan runaway, Karima el-Mahroug.
They also accuse him of bringing pressure to bear on the police to release el-Mahroug, also known as Ruby, when she was detained on suspicion of theft last May. Berlusconi denies any wrongdoing and described the charges as ridiculous in an interview with the daily
Il Foglio
.
The prime minister lashed out against his detractors, accusing them of trying to stage a moral coup. In an apparent warning that he would call an election if put on trial, he told the paper's editor, Giuliano Ferrara: "In a democracy, the judge of last instance, when it is a matter of deciding who governs, is the electorate and, with it, the parliament."
Napolitano told representatives of the body that oversees the judiciary that the constitution struck the necessary balance between the various arms of government.
"Outside that framework, lie only the temptation to [provoke] institutional conflicts and media campaigns that cannot lead anyone to truth and justice."
On Thursday night Ferrara, who was once the prime minister's spokesman, was given almost six minutes on the flagship news bulletin of the state-owned RAI network to accuse Berlusconi's opponents of trying to remove him by extra-parliamentary means. He warned: "There are elements of a civil war that must be contained."
Berlusconi hinted to
Il Foglio
that he was considering reintroducing parliamentary immunity, which was abolished in 1993.
His foreign minister, Franco Frattini, suggested Berlusconi might appeal to the European court of human rights against the wiretapping that provided much of the evidence against him.
A disastrous week for the government worsened overnight when one of its most vaunted achievements was put in jeopardy. More than 850 illegal migrants landed on the southern island of Lampedusa. Over a thousand have arrived since Wednesday.
Berlusconi has repeatedly claimed to have put at stop to the trafficking of migrants from Libya by means of a deal with the country's leader, Colonel Muammar Gaddafi.
The disturbances across north Africa appear to have opened up a new route from Tunisia. Eleven vessels entered Italian territorial waters during the night. Another two were reportedly on their way.
'An arrogant elite'
Extracts from Silvio Berlusconi's interview with the daily
Il Foglio
:
"Sometimes I, like everyone, am a sinner. But the moralizing justice that is brandished at me is to 'go beyond' me ... to put into a [position of] power, by means of an anti-juridical use of the law and legality, the ideas of culture and civilization of an elite that considers itself to be without sin. It is scandalous. It is illiberalism in its pure form. Those who preach a republic of virtue, using Jacobin and puritan language, have in mind an authoritarian democracy: the opposite of a system founded on freedom ... [they maintain that Italy] must be freed of Berlusconi, bypassing the electoral will of the Italians who, according to this arrogant and anti-democratic elite, are all idiots.

"So an 'extra-parliamentary' initiative is needed to destroy the political sovereignty that the people are not worthy of exercising. There is a widespread awareness of a soft coup d'etat [in the making]."