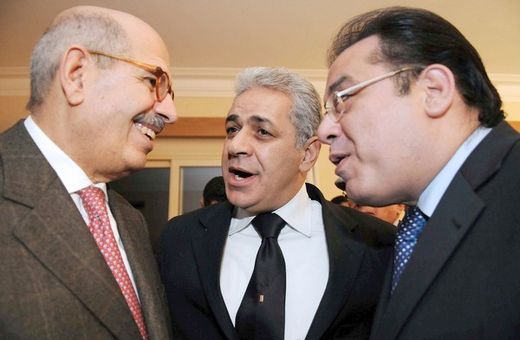 The former head of the U.N. nuclear watchdog agency says the new group will push 'for constitutional reforms and social justice.' What many want to know is: Will he run for president?
Reporting from Cairo - After a meeting this week with opposition groups, the Egyptian who gained international renown as head of the U.N.'s nuclear agency stepped up pressure on his government by announcing the establishment of the National Front for Change.
"An agreement was reached to set up the new front, which is opened to all Egyptians from different political orientations. Its main target will be pushing for constitutional reforms and social justice," Mohamed ElBaradei, the former International Atomic Energy Agency chief, was quoted as saying in the independent daily Al Dustour.
"We have also formed a preparatory committee whose role will be setting the general guidelines on how the Egyptian Constitution can be changed, and how transparency for the upcoming elections can be reached," he added.
But the question left lingering was: Will ElBaradei, a Nobel Peace Prize laureate, run for president in 2011?
The bespectacled diplomat, who left his U.N. post in November, has been coy. He has not, publicly at least, divulged his long-range strategy. Is he using his international clout to force social and political change, or is he building momentum for a bid against the ruling National Democratic Party of President Hosni Mubarak?
The latter prospect tantalized participants in a meeting Tuesday attended by prominent Egyptian politicians and intellectuals such as Hassan Nafaa, coordinator of the Egyptian Campaign Against Succession; Ayman Nour, El Ghad Party presidential candidate; George Ishaq, the former leader of the Kifaya ("enough") movement, and a number of lawmakers and writers. But few offered any clues.
"The meeting was not to discuss whether ElBaradei would run in elections, nor to talk about him being the 'savior' or 'the redeemer,' " Ishaq said. "It was to discuss working in the street for political reform."
ElBaradei, who was welcomed by thousands of supporters Friday upon his first return to Cairo since leaving his IAEA post, has said he would enter the race if the constitution was amended to make it easier for independent challengers to register. That is unlikely. In recent years, the ruling NDP has rewritten the constitution to limit the chances of opposition candidates. Mubarak has been in power since 1981.
By law, presidential candidates must secure the approval of 65 members of the People's Assembly, 25 members of the consultative Shura Council and 10 members of municipal councils. As an alternative, candidates can be nominated if they have been leading members of parties that have been active for a minimum of five years before the elections.
ElBaradei doesn't meet either condition.
Although the 81-year-old Mubarak has yet to say whether he'll seek another term, talk of succession has gripped Egypt as the profile of his son Gamal, head of the NDP's policies committee, keeps rising.
Many Egyptians regard ElBaradei as the one man who could vigorously challenge the prospect of succession. More than 100,000 members have joined a Facebook group in support of him.