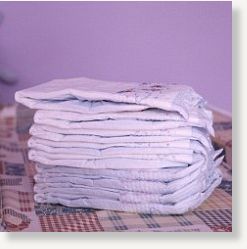 A live-in male nanny who had a disturbing fetish for soiled nappies and kept a dirty one underneath his bed pillow has been jailed for 16 months.
Tony Barnes, 30, had 63 pornographic pictures of children and hundreds of babies and young girls in nappies on his laptop, a court heard.
He was arrested in 2009 after his boss - a mother-of-three from Winnipeg in Manitoba, Canada - tried to close his laptop and found the sexually explicit pictures on his laptop.
Police searched his room after obtaining a warrant and found an 'abundance of diapers', including a dirty one under a pillow, Terry McComb, prosecuting, said.
They also found the pictures of children and a series of online chats in which he freely discussed sexually abusing children, often using soiled nappies.
He was hired five months before by the parents through Nannies International, which provided 'glowing work references', Mr McComb said.
'The family just thought he was golden - they thought he was great,'
he added.
Barnes, who was not accused of abusing children, told police he wore nappies until he was four-years-old and then again as an adult.
'His sexual interest is readily apparent in wearing the diapers,' Mr McComb said. 'This individual has an awareness problem that is pretty deep-seated.'
Most child pornography offenders are considered unlikely to reoffend because of the shame associated with the crime, he added.
'There is no evidence he does any of these things other than it being a fetish in his head - other than the diapers,' said Leonard Tailleur, defending. 'The fetish causes people to get in a state of angst.'
Barnes wants to return to childcare work when he gets out of jail and claimed to have taken a number of childcare courses - but no records of this exist, Mr McComb said.
He pleaded guilty to one count of child pornography possession and was sentenced by Judge Tracey Lord to 16 months in prison and three years of supervised probation.
The minimum sentence for child pornography possession is 45 days in prison.