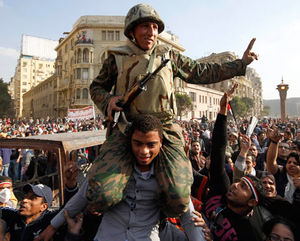 At least 10 protesters have been killed and scores injured in the Egyptian city of El-Arish on the day that saw the historic overthrow of former President Hosni Mubarak.
Hours before Mubarak announced his resignation, government vigilantes clashed with pro-democracy protesters who surrounded a police station in the Egyptian city of El-Arish late Friday to free prisoners held by the regime, a Press TV correspondent reported.
Government forces then fired tear gas and live bullets to break up the demonstrators, killing at least 10 protesters and injuring 50 others.
Protesters, who were increasingly incensed by Mubarak's refusal to cede power in his televised speech a day earlier, eventually managed to secure the release of their friends and relatives during the melee, while twelve police officers surrendered to the crowd.
Meanwhile, hours after Mubarak's resignation on Friday other members of the police escaped the chaos amid large celebrations in the northern Sinai.
Mubarak, the second Arab leader to be overthrown by a popular revolution in a month, handed power to the military following 18 tumultuous days of non-stop demonstrations in protest against poverty, corruption and repression in the country.
Former Egyptian Vice President Omar Suleiman announced Mubarak's resignation in a brief statement late Friday and further noted that the Supreme Council of the Egyptian Armed Forces, headed by Defense Minister Gen. Mohammed Tantawi, would run the affairs of the North African country.
Earlier, the 82-year-old strongman had flown out of the Egyptian capital, Cairo, to his holiday retreat at Sharm el-Sheikh on the Red Sea.
Meanwhile, millions of Egyptians waved their country's flags, danced in the streets of Cairo and several other cities, honked horns and launched fireworks until the early hours of Saturday to celebrate the departure of Mubarak.
The historic overthrow trigged an influx of reaction by world leaders and officials, with Secretary of Iran's Supreme National Security Council Saeed Jalili saying that it took 30 years for Mubarak and his American and European sympathizers to hear the voice of the people in Egypt.
"The United States and Europe should be answerable to the Egyptian people for supporting a dictatorship for 30 years."
Jalili said during an exclusive interview with Press TV on Friday.
Meanwhile, thousands of Palestinians in the besieged Gaza Strip took to the streets on Friday, celebrating Mubarak's resignation.
Gazans congratulated the Egyptian people on the success of their revolution, describing it as the victory of the will of the Egyptian people and their sacrifices.
Hamas, the democratically-elected government of Gaza, has called on the new Egyptian leadership to "immediately" open the Rafah crossing between Gaza and Egypt and end the coastal sliver's three-and-a-half-year blockade.
Media reports say that the Israeli Embassy in Cairo has been shut down following the transfer of power from Mubarak to the Egyptian military.