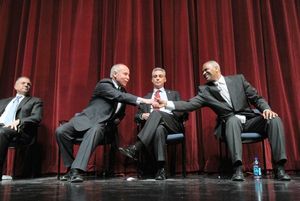 Debate is the first to feature all 6 hopefuls
Rahm Emanuel found himself criticized on issues ranging from taxes to reparations for slavery Wednesday night during the first forum featuring all six candidates for Chicago mayor.
The former White House chief of staff mostly ignored the barbs, especially those from Gery Chico, former Chicago school board president. He contended that Emanuel would burden taxpayers with a service tax Emanuel has proposed as part of a plan that would include a quarter-point cut in the city sales tax.
Two other candidates, William "Dock" Walls and Patricia Van Pelt-Watkins, slammed Emanuel for his positions on tax increment financing districts and reparations.
Emanuel agreed with most candidates in supporting reparations for descendants of slavery, but said that all citizens need to keep in mind that the city has a significant budget deficit to tackle.
Watkins, a community activist and one of three African-American candidates, said she was offended by Emanuel's comments because the nation was built "on the backs" of slaves.
It's unclear exactly what a mayor could do on the issue. Previous efforts at City Hall have been mostly symbolic.
The question came up at a debate hosted by the Chicago Defender newspaper at the DuSable Museum of African American History.
The candidates also discussed changes to TIF districts, with Walls hammering Emanuel's plan to use the funds to hire more cops.
After the forum, candidate Miguel del Valle said a new Emanuel TV ad featuring President Barack Obama praising him as he left the White House was deceiving. Del Valle said the spot implies an endorsement, which hasn't formally happened.
Carol Moseley Braun, Emanuel and del Valle showed up late because the forum, rescheduled because of last week's blizzard, conflicted with one hosted by a coalition of gay rights groups. That forced the double-booked candidates to scramble from downtown to the South Side to appear at both events in an effort to reach out to two key constituencies - gay and black voters.
Emanuel has skipped most non-televised debates and forums.