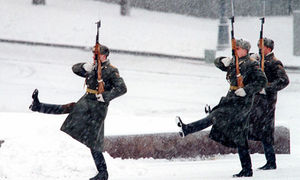 Guardian Moscow correspondent Luke Harding's expulsion follows history of bad relations with western media
Russian authorities either denied entry to or deported more than 40 members of the media between 2000 to 2008, according to statistics from the Moscow-based press freedom group Centre for Journalism in Extreme Situations. British journalists who have been denied entry or expelled include:
Angus Roxburgh
In 1989 Roxburgh was expelled from what was then the Soviet Union while working as Moscow correspondent for the Sunday Times, as tension over the collapse of communism in eastern Europe was reaching its peak. Longtime Russo-phile Roxburgh was expelled by the KGB for supposed "unacceptable activities". He was effectively deemed a "spy", in a tit for tat expulsion. Within months he was back in Russia - with the KGB reportedly furious at his swift return - later covering Moscow's "August Coup" for the Guardian in 1991. Roxburgh went on to become the BBC's man in Moscow in the 1990s. In 2006 he was hired as a spin doctor to the Kremlin as part of a team including Tim Allan, the former Labour press officer who founded PR agency Portland, employed to smooth Russia's image ahead of a G8 summit in St Petersburg.
Thomas de Waal
In 2006 the Russian Ministry of Foreign Affairs denied British journalist de Waal an entry visa, citing "state security" as its reason. De Waal, who had worked in Moscow for the English-language Moscow Times, the Times and the BBC, had been due to attend the presentation of a Russian version of his book in Nagorno-Karabakh. He believed his ban was a retaliation over critical reporting about the conflict in Chechnya. He wrote the introduction to murdered journalist Anna Politkovskaya's first book in English, A Dirty War.
Simon Pirani
In 2008 British freelance journalist Pirani was refused entry in Moscow and sent back to London, despite having a valid multiple-entry visa, after officials deemed him a security threat. He was not told how exactly he posed a threat, although a trip the year before had involved visiting trade unions and civil rights representatives for interviews relating to a book. Pirani had worked in Russia as a reporter and academic researcher regularly since the 1990s. He is a National Union of Journalists activist who specializes in covering the former Soviet Union.