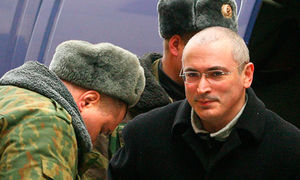 The final edit of a documentary about jailed Russian oligarch Mikhail Khodorkovsky has been stolen from the director's office in Berlin, just days before its world premiere.
In what police described as a "very professional break-in", four computers containing the last cut of the film, titled simply Khodorkovsky, were removed from Cyril Tuschi's premises.
The documentary was due to be premiered at the Berlin film festival next week.
Khodorkovsky, a fierce critic of Russian president Vladimir Putin, was once his country's richest man but has been in jail on fraud charges since 2005 after falling foul of the Kremlin.
Although police have no leads in the case, there is suspicion that the theft is politically motivated and forms part of a Russian campaign against its critics.
"It's like being in a bad thriller," Tuschi told the Süddeutschezeitung. "Someone is trying to scare me and I must admit that they are succeeding."
This is the second time the film has been stolen. A few weeks ago, when Tuschi went to work on the final edit in Bali, his hotel room was broken into and his computer hard drive taken, according to his PR agency.
Now Tuschi has moved out of his Berlin flat and is staying with friends after being warned that he should seek protection.
Asked whether he believed the latest theft was an attempt at intimidation by agents of Putin, Tuschi said: "I don't know - but it would be a huge coincidence given that the material was stolen right at the end of production."
The film premiere comes at a time when Khodorkovsky is facing another six years in jail, following a second trial that culminated in December. Opinion in Russia is deeply divided about a tycoon who became Russia's richest man during the 90s era of "robber capitalism", but who has conducted himself with dignity since his arrest on an airport runway in Siberia in 2003.
A number of prominent Russians have gone public about their support for the jailed oligarch - two in the past week. On Monday, pop star Alexander Buinov recanted a denunciation he and dozens of other celebrities signed up to in 2005. His move followed a similar volte-face by ballerina Anastasia Volochkova on Friday.
"Some people's attitude towards Khodorkovsky is changing because he's proved himself to be manly," said Vladimir Pribylovsky, a political analyst. "Back when we had what you could call elections, the Kremlin needed to bring in votes and the case against him brought a big plus," he said. "But when people saw that the other rich guys weren't arrested, many started to sympathise with him."
President Dmitry Medvedev, prone to more liberal rhetoric than Putin, has ordered his human rights council to review Khodorkovsky's case, but the body carries no legal power.
"If it were a serious, professional undertaking, there wouldn't be such a loud beating of the drums around it," said Khodorkovsky's main lawyer, Vadim Klyuvgant. "If it is really an independent analysis, we can see what will come of it. Legally, it has no meaning - but they can push informal actions."
He said he believed support for Khodorkovsky was growing because the former tycoon has become a symbol for Russia's warped justice system.
"Every person has a level of tolerance up to which they can be silent," he said. "The divide between words on television and real actions has grown to be so large, that it hits people hard psychologically."Tuschi said he had been threatened in Russia when he was making the film: "When I started the project, the journalist Anna Politkovskaya had just been murdered. I drove through Russia and realised that I had to fear the Russian police. I have nothing to worry about with German police, but in Russia it's a different story," he told the Berliner Zeitung.
"Once we were quite openly threatened. We were in Siberia on a train between Novosibirsk and Chita, where Khodorkovsky was in jail. Three young men attacked us. They were the regional representatives of the KGB. They knew exactly who we were and what we were doing there. It was very scary."
For the Russians who spoke to him on camera, the consequences could be severe. The Russian daily Kommersant printed a front page story about the film which suggested those who took part may live to regret it. Khodorkovsky's ex-wife Elena, who appears in the documentary, allegedly sent Tuschi an email on Sunday telling him he had made a mistake by giving an interview to a Russian journalist, the Süddeutschezeitung reported.
German-born Tuschi, whose parents are from Russia, has been working on the film for the last five years. The final 111-minute edit condensed 180 hours of interviews conducted all over the world. As well as speaking to Khodorkovsky's ex-wife, Tuschi interviewed his mother and son, who is exiled in New York. But perhaps his biggest coup was a 10-minute interview with the inmate himself.
A spokeswoman for Berlin police said they were investigating the break-in but could give out no further information. There have been no arrests.
The film will still be premiered next week as Tuschi had already sent a copy to the Berlin film festival, said a spokeswoman for his distribution company.
Billionaire with powerful foes
Mikhail Khodorkovsky was one of the original Russian oligarchs, a handful of politically connected billionaires who made their fortunes taking advantage of the collapse of the former Soviet Union.
An active member of the Communist party's youth wing as a student, Khodorkovsky used his connections to build an import-export business as a free market emerged and eventually founded Menatep, one of Russia's first private banks. He used the bank to buy Yukos, cobbled together from the scraps of the Soviet oil industry, in 1996. Khodorkovsky turned Yukos into Russia's biggest oil company and largest private firm. Khodorkovsky quickly became the richest man in Russia.
After Vladimir Putin came to power, Khodorkovsky began funding opposition parties without Kremlin approval, breaking an unwritten rule set by Putin, then president, to stay out of politics. He also supported private pipeline projects and was reportedly in talks to sell a big stake in Yukos to a US oil firm.
He was arrested at Novosibirsk airport in Siberia in 2003 and in 2005 was eventually sentenced to eight years in prison on charges of fraud and tax evasion. His jail term was extended to a total of 14 years in January this year, when a Moscow court added a further six years to his term on charges of money laundering and embezzlement.