A vast thunderstorm that erupted on Saturn during the closing weeks of 2010 is still going strong. "
It looks like a comet plowing through Saturn's northern hemisphere,"
reports amateur astronomer Christopher Go. He took these pictures on Feb. 5th using an 11-inch
Celestron telescope
in Cebu City, the Philippines: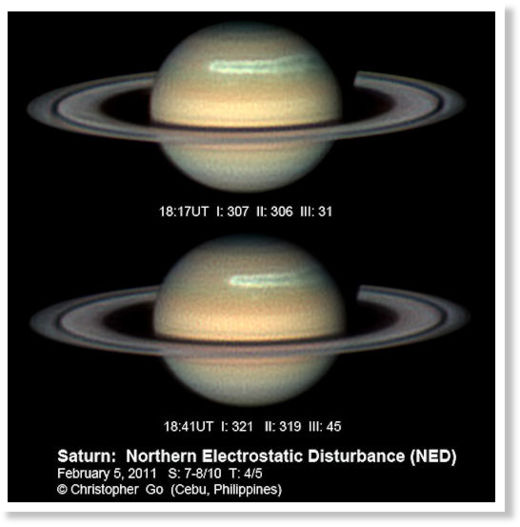 "The storm is very bright," says Go. "I spent a few minutes observing it visually (through the eyepiece) and it is very prominent."
Researchers call the storm the "northern electrostatic disturbance" because (1) it is in Saturn's northern hemisphere and (2) it is strongly charged with
lightning.
Receivers onboard NASA's Cassini spacecraft are picking up radio crackles each time a bolt discharges--much like the static you hear on a car radio when driving through an electrical storm on Earth.
The storm is stretching around much of Saturn's northern hemisphere--and growing longer. This means there a good chance of catching it no matter when you look. Amateur astronomers are encouraged to monitor developments. Saturn may be found high in the southern sky before dawn shining like a yellow 1st-magnitude star.
More Images
Image taken by Efrain Morales Rivera from Aguadilla, Puerto Rico.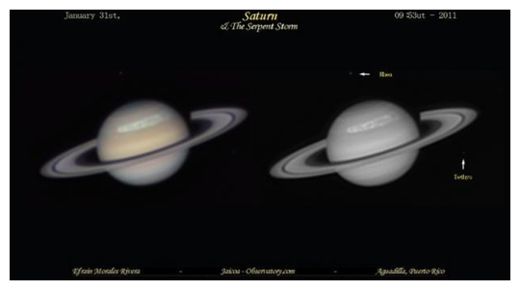 Image taken by Dennis Put from Brielle, The Netherlands.