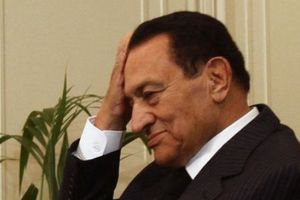 Out-of favor Egyptian President Hosni Mubarak and his son Gemal have stepped down from the positions they held in the ruling party as anti-government protests intensify.
Hosni Mubarak resigned as the head of National Democratic Party (NDP) along with the party's secretary general Safwat el-Sherif on Saturday, DPA reported. Moreover, Gemal stepped down from a position he held in the party.
Hossam Badrawi, a member of the Upper Chamber of the Egyptian Parliament, is expected to take over as secretary general, state media reported.
The developments come as millions of people gathered in Cairo's Liberation Square for the 12th straight day, calling on Mubarak to immediately step down.
Egyptians also continued massive anti-government rallies on Saturday across major cities of the country. Large rallies were also held in other cities including Alexandria and Suez.
The rallies were largely peaceful. However, gunfire and street battles between protesters and government forces were reported in Cairo.
This comes as Mubarak has held talks with key cabinet ministers to try and kick-start an economy hit by the ongoing protests.
Egyptian officials have delayed the reopening of the country's stock exchange as anti-government protests continue.
Egypt's stock exchange was scheduled to reopen on Monday. However, the state-run MENA says no decision has been made as to when it will resume business.
Hundreds of thousands of people around the world have also held demonstrations in support of the Egyptian revolution.
Egyptian opposition figure, Mohamed ElBaradei says he wants to discuss a peaceful political transition with top army officials.
In an interview with the German weekly
Der Spiegel
to be published next week, ElBaradei said he prefers the talks to take place soon.
ElBaradei also said he doubts any Arab country would welcome President Hosni Mubarak if he leaves Egypt.
The former head of the International Atomic Energy Agency has taken part in several anti-government rallies, calling for the ouster of Mubarak.
In a separate development, unknown assailants blew up a pipeline, which carries natural gas to Israel and Jordan, in Egypt's El-Arish city.
The blast, which occurred near a mining site, three kilometers from the El-Arish airport, reportedly struck the Jordanian branch. Flames from the explosion could be seen some 70 kilometers away.
The Egyptian army closed the main source of gas supply following the explosion, halting supply to Israel as a precaution.
Authorities have declared a high state of alert in the area. Egyptian authorities blamed foreign elements for the attack.
On Friday, millions gathered in Cairo to observe what they called the "Day of Departure" for the long-time ruler. The protests continued into the night, in defiance of a curfew.
According to the United Nations, at least 300 people have so far been killed and thousands more have been injured during nationwide protests in Egypt.