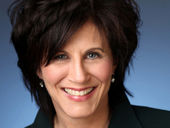 One way that presidents reward their biggest donors is by offering them plum ambassadorships. Which is why it wasn't surprising when the Obama administration tapped Cynthia Stroum to be U.S. ambassador to Luxembourg.
Stroum, a
businesswoman and philanthropist
, had been a major bundler for Barack Obama's 2008 presidential campaign, raising more than half a million dollars for the then-candidate.
It appears that her fundraising abilities did not translate to diplomatic success, however: According to a
scathing State Department probe out Thursday
(PDF), Stroum was seen by most employees as "aggressive, bullying, hostile and intimidating."
The probe found that Stroum's "confrontational management style," staffing problems and "the absence of a sense of direction" have brought much of the Luxembourg embassy "to a state of dysfunction."
Things got so bad, the report says, that staffers asked for transfers to Afghanistan and Iraq due in part to "a climate of acute stress" at the embassy.
"Since the Ambassador's confirmation, most of the senior staff, including two deputy chiefs of mission (DCM) and two section chiefs, has either curtailed or volunteered for service in Kabul and Baghdad," the report says. "Other U.S. staff members have also departed early. At the time of the inspection, additional members of staff were contemplating curtailing. The OIG team believes and in some cases knows for certain that these early departures are because of the Ambassador's management style."
The report found that Stroum "has followed a pattern of public criticism of colleagues...who have not performed to her satisfaction."
And it says that, counter to regulations, "At the end of FY 2010, the mission scrambled to use up its representational funding by bulk purchasing $3,400 in wine and liquor."
Stroum left the embassy last month, saying she wanted to spend more time with her family in Seattle; as Politico notes, she acknowledged that her time had been "challenging" but said she "loved the work and am tremendously proud of what we have accomplished during my tenure."