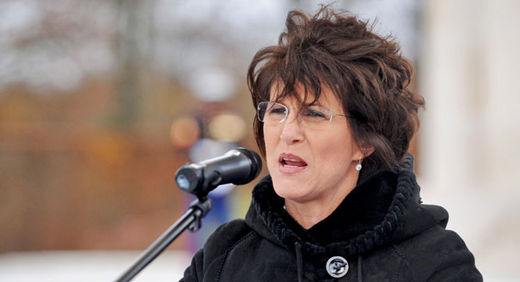 An Obama bundler picked for a choice ambassadorship brought the U.S. embassy she led to "a state of dysfunction" in a year on the job, a State Department probe has found.
Cynthia Stroum, who last month left her post as U.S. ambassador to Luxembourg, was "aggressive, bullying, hostile and intimidating," the department's inspector general said in a report released Thursday. The embassy and its staff face myriad problems, including "the absence of a sense of direction," which has "brought major elements of Embassy Luxembourg to a state of dysfunction."
Stroum's year in Luxembourg was marred by personality struggles, management problems and improper spending, including $3,400 the embassy rushed to spend on wine and liquor at the end of the 2010 budget year.
The inspector general found that Stroum, who announced her resignation in mid-January and left the embassy on the last day of the month, was the source of" [t]he bulk of the mission's internal problems." Stroum, the report said, followed a pattern of public criticism of colleagues ... who have not performed to her satisfaction."
Stroum, a businesswoman and investor, raised more than $500,000 for Barack Obama's presidential campaign in 2008, and was rewarded with the desirable ambassadorship, which presidents often give to friends and donors. In the last half century, just three of the 21 ambassadors to Luxembourg have been career diplomats.
When she announced that she was leaving, Stroum told the local press that though her work at the embassy had been "challenging," she was leaving to spend more time with her family in Seattle. "This was a very difficult choice to make," she said in a statement dated Jan. 13. "Not only have I developed a very strong bond with the people of Luxembourg, I have loved the work and am tremendously proud of what we have accomplished during my tenure."
The State Department made no official statement that Stroum was stepping down and department spokesman Mark Toner gave only a brief comment to the Associated Press. "We are grateful for her service to the United States and wish her all the best in her new endeavors," he said.
Conditions at the embassy were so bad that a handful of staffers requested transfers to Iraq and Afghanistan, the report said, and other staff still working there were considering ways to move elsewhere. In some cases, the inspector general "knows for certain that these early departures are because of the ambassador's management style."
Stroum created "a climate of acute stress" that was "especially evident among officers and local staff who have been here more than 3 or 4 months," inspectors found. In the report, they suggested that medical professionals be sent to the embassy "to evaluate morale and stress levels of staff" and assess the mental health of people who worked for Stroum.