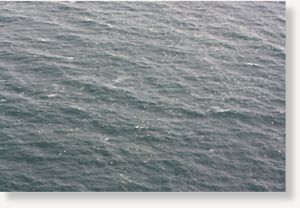 Taking advantage of a NC Division of Marine Fisheries (DMF) decision to allow them back into the ocean, commercial striped bass trawlers off of Oregon Inlet again killed and discarded thousands of striped bass today in a tragic and wasteful repeat of last month's fish kill.
Despite the massive striped bass kill last month, DMF director Dr. Louis Daniel reopened the ocean trawler striper season
and once again the commercial trawlers left a miles-long trail of wasted, dead stripers
.
"There are thousands of discarded striped bass covering an area approximately 1-1 ½ miles wide and 3-5 miles long," said one eyewitness observer who flew over the fish kill in a helicopter. "There is no disputing the fact that these fish came from the trawler fleet as there were no other boats in the area."
Most recreational boats were not fishing out of Oregon Inlet today due to heavy winds and swells. But one charter captain who did make it to the area described the size of the fish left dead in the wake of the trawlers.
"These were not undersized fish we are talking about," he said. "We picked up discarded striped bass up to 34 pounds."
Just weeks ago a
huge striped bass kill
brought howls of protest from recreational and small commercial fishermen to the DMF, which attempted to blame much of the problem on a single overloaded net from one trawler.
After that the DMF changed the law which limited striped bass trawlers to 50 fish in response to public pressure and media reports detailing trawlers throwing thousands of striped bass, many of legal size in the 15 to 20 pound range, back into the ocean in order to keep larger fish.
The DMF did not close the fishery, however, and allowed the trawlers back into the ocean under the new rules. They were allowed out again today and will go back tomorrow.
The rule change has not eliminated the massive discard of dead striped bass, and once again we have a field of senseless waste and destruction littered in the ocean while the government does nothing
.
You can visit the contact page for the NC DMF
here
.