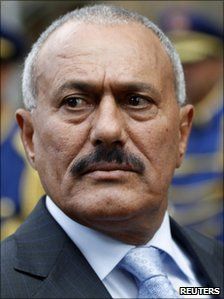 Yemeni President Ali Abdullah Saleh says he will not seek to extend his presidency when his current term expires in 2013, according to reports.
Mr Saleh, who has been in power for three decades, also pledged that he would not pass on power to his son.
He spoke to parliament ahead of a rally in the capital on Thursday which, echoing protests in Tunisia and Egypt, has been dubbed a "day of rage".
Mr Saleh came to power as president of North Yemen in 1978.
When the country was united with South Yemen in 1990 he became president of the new republic.
Concessions
Speaking during an emergency session of the country's parliament and the consultative council, he laid out his plans to move aside.
"No extension, no inheritance, no resetting the clock," Mr Saleh said.
"I present these concessions in the interests of the country. The interests of the country come before our personal interests," he said.
He also called on the opposition to "freeze all planned protests, rallies and sit-ins".
He spoke ahead of the planned protests, organised by civil society groups and opposition leaders in a country which suffers from high population growth, 40% unemployment, rising food prices and acute levels of malnutrition.
Some 40% of the population lives on less than $2 (£1.25) a day and parts of the country have become a haven for al-Qaeda militants.
Tens of thousands of people gathered in January during days of protests urging Mr Saleh to step down.
Aspirations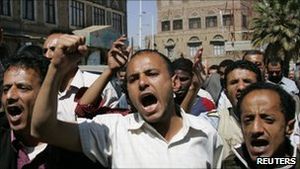 After the revolt in Tunisia, which forced the country's president to flee into exile, Mr Saleh made a series of concessions - halving income tax and ordering his government to control prices. He has also pledged to raise the salaries of civil servants and military personnel by around $47 (£29) a month.
Mr Saleh's statement was welcomed by the country's largest opposition party but it said the planned rally would not be called off.
"We consider this initiative positive and we await the next concrete steps. As for our plan for a rally tomorrow, the plan stands and it will be organised and orderly," Mohammed al-Saadi, under-secretary of the Islamist Islah party said, according to Reuters.
"This is a peaceful struggle through which the people can make their voices heard and express their aspirations," he added.
In January, Mr Saleh had proposed a constitutional amendment that would allow him to stand for re-election in the next presidential ballot in two years' time but, analysts say, he appears to have changed his mind after seeing the impact of public demonstrations across the region.
He made a similar promise to stand down before the 2006 presidential election, but eventually reversed this position.