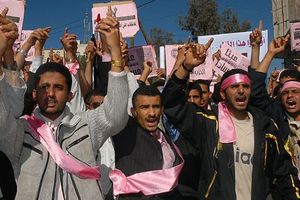 Opposition groups in Yemen say they will go ahead with a scheduled anti-government protest rally despite President Ali Abdullah Saleh's promise to quit in 2013.
The opposition on Wednesday welcomed Saleh's decision to end his 30-year rule, but said that they will not call off a planned rally in the capital on Thursday, dubbed a "day of rage."
"We consider this initiative positive and we await the next concrete steps. As for our plan for a rally tomorrow, the plan stands and it will be organized and orderly," said Mohammed al-Saadi, the undersecretary of the Islamic Islah party, Reuters reported.
"This is a peaceful struggle through which the people can make their voices heard and express their aspirations," he emphasized.
Massive anti-government demonstrations broke out in Yemen after the president proposed a constitutional amendment in January that could make Saleh the president of Yemen for life.
After days of anti-government demonstrations across the country, President Saleh finally said on Wednesday that he will not seek to extend his presidency when his current term expires in 2013. He also pledged that he would not pass on power to his son.
"No extension, no inheritance, no resetting the clock," Saleh said during an emergency session of the country's parliament and the consultative council.
"I present these concessions in the interests of the country. The interests of the country come before our personal interests," he said, calling on the opposition to "freeze all planned protests and rallies."
Analysts believe that the Yemeni president's recent move aims at defusing tensions as the country braces for a day of overwhelming protests on Thursday.