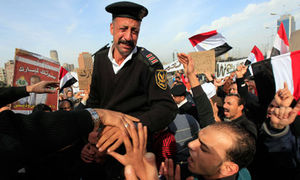 Four reporters set upon as hundreds of pro-government supporters launch resistance against protests
Supporters of Egyptian president Hosni Mubarak beat up several journalists after going on the offensive today.
Anderson Cooper from CNN, two Associated Press correspondents and a Belgian reporter were all set upon as hundreds of young pro-government supporters attacked crowds demanding Mubarak's immediate resignation.
Cooper said he and his crew came under attack, but CNN said no one was seriously hurt. Two Associated Press correspondents and several other journalists were roughed up during gatherings of Mubarak supporters.
In what appeared to be the most serious incident, a Belgian correspondent who reports for newspapers in Brussels, northern France and Geneva, was beaten, detained and accused of spying.
Maurice Sarfatti, who uses the byline Dumont, was covering a pro-Mubarak demonstration in the Cairo district of Shoubra when he said he was hit.
"It was rough. I received several blows to the face,"
Dumont said. "They claimed I was pro-Baradei [the opposition leader, Mohamed ElBaradei]. I was then taken by the military to a barrack on the edge of town.
"I was given a glass of water - from the Nile so I would get diarrhoea, they said. I was guarded by two soldiers with Kalashnikovs and bayonets.
"They said I would be taken to the secret service. They accused me of being a spy."
The strong-arm tactics immediately drew a rebuke from the US.
"The United States deplores and condemns the violence that is taking place in Egypt, and we are deeply concerned about attacks on the media and peaceful demonstrators," said Robert Gibbs, the White House press secretary. "We repeat our strong call for restraint."
Egyptian state TV reported that foreigners were caught distributing anti-Mubarak leaflets, apparently trying to depict the movement as foreign-instigated.
As the mood turned ugly after the last few days of euphoria, UN secretary-general Ban Ki-moon said he was "deeply concerned" at the "unacceptable" violence.
He urged Egypt's leaders to "accept the will of their people that they should listen more attentively to the genuine and sincere wish of the people".
David Cameron sent the same message to the Egyptian authorities, saying it would be unacceptable for the Egyptian government to be supporting violence in any way.
"If it turns out that the regime in any way has sponsored or tolerated this violence, that is completely unacceptable," he said after meeting Ban Ki-moon in London.
The UN High commissioner for human rights urged the authorities to listen to demands for fundamental reforms.
"I urge all governments, both in this region and elsewhere to reflect on the fact that, in the long term, genuine and lasting stability does not depend on a ruthless security apparatus, or a ring of military steel, but on the development of human rights and democracy," said Navi Pillay.
"These are the principles on which the United Nations was founded. Stability cannot be approached solely through a security lens. This is a short-sighted method that, in the end, is bound to fail."
CNN's Anderson Cooper and his crew coming under attack: