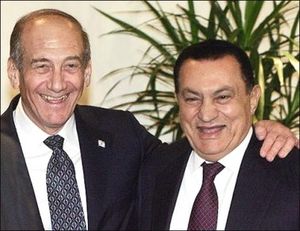 President Obama, clearly frustrated by Egyptian President Hosni Mubarak's intention to retain his hold on power until elections later this year, said Tuesday evening that he has told Mubarak that a transition to representative government "must begin now."
In brief remarks at the White House, Obama made no mention of Mubarak's announcement that he had decided not to stand for reelection. Instead, Obama said he had told the Egyptian president in a telephone call that this was a "moment of transformation" in Egypt and that "the status quo is not sustainable."
Obama's message appeared carefully calibrated to avoid publicly calling for Mubarak to stand down, while making clear he should stand aside. Administration officials say they are seeking a transitional government, with or without Mubarak as its titular head, formed by representative reform leaders and backed by the Egyptian army that will address legitimate grievances, restore stability and plan for a free election.
"The key part of the statement was 'now,' " an administration official said, speaking on the condition of anonymity.
Obama's message to Mubarak had been conveyed earlier in the day by special envoy Frank G. Wisner during a meeting in Cairo. While Wisner said it would be useful if Mubarak made it clear that he had no plans to run in the scheduled September election, officials said, the bulk of the meeting was spent urging Mubarak to turn over control far sooner.
While Mubarak appeared to understand the first part of the message, it was not clear to the White House until his speech was broadcast that he had dismissed the second part. In Cairo, protesters greeted the speech with continued demands that Mubarak leave office immediately.
"All of us who are privileged to serve in positions of political power do so at the will of our people," Obama said. It was "not the role of any other country to determine Egypt's leaders," he said. But "what is clear, and what I indicated tonight to President Mubarak, is my belief that an orderly transition must be meaningful, it must be peaceful, and it must begin now."
Obama was effusive in his praise for the Egyptian military, which did not interfere in protests Tuesday that were the largest yet in a week of massive demonstrations in Cairo and other cities. He spoke of "the sense of community in the streets" and the "mothers and fathers embracing soldiers."
Addressing the protesters, Obama said their "passion and dignity" was "an inspiration to people around the world, including here in the United States and to all those who believe in the inevitability of freedom."
"I want to be clear, we hear your voices," he said.
"Throughout this process, the United States will continue to extend the hand of partnership and friendship to Egypt," Obama said. "We stand ready to provide assistance that is necessary to help the Egyptian people as they manage the aftermath of these protests."
An administration official said that Obama's 30-minute conversation with Mubarak, which occurred after the Egyptian leader's televised speech, was "direct and frank," and similar to the public statement Obama then made at the White House.
Obama told Mubarak that "it was clear how much he loves his country, and how difficult this is for him," the official said. Obama also told him that "an orderly transition can't be prolonged - it must begin now."
Obama and his national security team - including Vice President Biden, Secretary of State Hillary Rodham Clinton, Defense Secretary Robert M. Gates and national security adviser Thomas E. Donilon - watched Mubarak's address, and the public reaction to it in Cairo, in the White House Situation Room.
Their meeting then continued with a discussion of how to respond to Mubarak and to protests spreading across the Arab world. After demonstrators took to the streets in Jordan, King Abdullah II announced in Amman on Tuesday that he had fired the Jordanian prime minister and dismissed the government.
Officials declined to comment on whether Obama had called Abdullah and other regional leaders Tuesday.
Before the Situation Room meeting adjourned after about an hour and 10 minutes, Obama decided to call Mubarak personally and to make a public statement. As speechwriters began to compose the statement, the president went to the Oval Office to make the call.
The administration's position is similar to that spelled out Tuesday morning by Sen. John F. Kerry (D-Mass.), chairman of the Senate Foreign Relations Committee, who called for Mubarak to both declare that neither he nor his son would run in September and to pledge to work with the Egyptian army and civil society to establish "an interim, caretaker government as soon as possible to oversee an orderly transition in the coming months."
Kerry, whose comments appeared in an op-ed article in the
New York Times
, said that Egypt's stability "hinges on [Mubarak's] willingness to step aside gracefully to make way for a new political structure."
In a statement issued after Mubarak's remarks, Kerry again called on him to "work now with the military and civil society to establish an interim caretaker government."