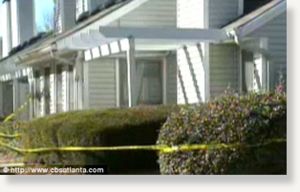 Alpharetta, Georga -- The father and aunt of a 4-year-old girl have been charged with killing her.
According to Alpharetta Police Department spokesman George Gordon, the 4-year-old girl died as a result of "extreme alcohol toxicity."
Officers told Channel 2's Mike Petchenik that they were called to a condo unit on Homestead Trail in Alpharetta for a medical emergency just after midnight Friday. Neighbors said the home is occupied by a family with several children.
A 4-year-old girl was transported from the home to an area hospital and later died, police said. They aren't releasing the child's name because she is a minor.
The victim's father and aunt were both charged with felony cruelty to children and felony murder. Gordon said their names are being withheld pending notification of family members.
Four other children were taken to the Division of Family and Children Services, police said.
Officers swarmed the area while they investigated throughout the morning on Friday. Petchenik went to the scene where police cordoned off a large section of the parking lot at the Planter's Ridge condos.
Police said child deaths are especially difficult to deal with.
"It's never easy for us to investigate something like this," Alpharetta police spokeswoman Jennifer Howard said. "We all care about children. This is the hardest type of case to investigate."
The Fulton County District Attorney's Office, which is helping with the investigation, was interviewing family members.