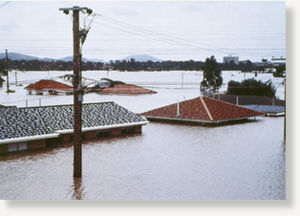 Household insurance premiums are likely to skyrocket this year because of natural disasters as tropical cyclone Yasi threatens even more damage in flood-ravaged Queensland.
Yasi is predicted to hit the coast between Townsville and Cairns tomorrow night or early Thursday with gusts of 250km/h and heavy rain. It could cause flash and riverine flooding, said Ann Farrell, a meteorologist at the weather bureau.
Destructive winds are expected between Cooktown and Yeppoon by tomorrow morning as Yasi approaches. A storm surge combined with high tides could flood low-lying coastal areas.
Insurance premiums were already tipped to rise 8 per cent before the Queensland floods, according to a JPMorgan Deloitte survey released yesterday.
"We anticipate 2011 to be another year of extreme natural events given the La Nina pattern and resultant wet weather we have seen recently in Queensland, NSW and Victoria," said an insurance analyst at JPMorgan, Siddharth Parameswaran.
''The 8 per cent figure was taken before the floods, so one may think the number in 2011 would likely be higher,'' he said.
La Nina could increase the risk of insurance payouts for tropical cyclone damage.
Up to 22 cyclones were expected to form near Australia this summer, compared with an average of 12, said a climatologist at the weather bureau, Yuri Kuleshov.
He said La Nina led to warmer than normal oceans around Australia and atmospheric conditions favourable for tropical cyclones.
''Warmer waters mean there is more energy stored in the ocean and this helps tropical cyclones to form,'' he said.
Cyclone Anthony has recently brought heavy rain to Queensland's central coast and cyclone Bianca big swells to Perth's coastline.