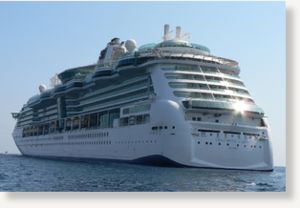 A taxi driver from Scotland who was aboard Royal Caribbean's Brilliance of the Seas in December when it was
rocked violently
by extreme winds and waves says the heavily publicized event led to his wife's death.
John Davey
tells the UK's Mirror
his wife, Barbara Davey, fell into a coma three days after being thrown about her cabin during the incident. She was taken to a hospital after the 2,100-passenger ship reached Malta and then airlifted back to Britain but never recovered and died on Jan. 7, the news outlet says.
Royal Caribbean said last month that more than 100 passengers were injured during the incident, which it has called serious, but the line said the injuries were mostly minor. The line said the ship unexpectedly
experienced extreme conditions
as it was approaching Alexandria, Egypt, that caused the vessel to roll sharply. Passenger photos posted online after the incident show toppled furniture, broken glass and other signs of a violent event.
The
Mirror
says the cause of Davey's death was listed as a brain hemorrhage.
"Barbara lapsed into ­unconsciousness before my eyes, fell into a coma and never woke up," Davey tells the news outlet.
The
Mirror
says Davey is suing Royal Caribbean, alleging the ship never should have sailed into the stormy weather. "Barbara was tossed around the cabin and was seriously hurt," Davey tells the
Mirror
. "When the storm calmed and we came out of our ­cabins, it looked like a bomb had gone off inside the ship."
Update, 11: 12 AM ET: Royal Caribbean is disputing the notion that the stormy weather encountered by Brilliance of the Seas had a role in Davey's death, telling USA TODAY that her illness was the result of a pre-existing medical condition. Royal Caribbean spokeswoman Michelle Nadeem says the ship's doctor was called to Davey's cabin on the second day the vessel was in Malta, three days after the ship hit rough seas, and the doctor quickly determined she had an acute medical emergency and called an ambulance.
"She was taken to the hospital where she remained in critical condition," Nadeem says, adding that Davey never lost consciousness while on the ship. "The Royal Caribbean Cruises Ltd. Medical Department has determined that Mrs. Davey's acute medical emergency was caused by a preexisting medical condition unrelated to the listing of the ship."