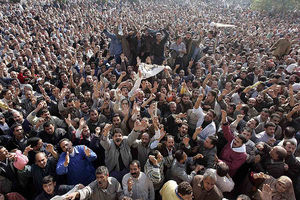 Israel repatriated families of its diplomats in Egypt on Saturday in response to the unprecedented street protests in the Arab state with which it has a 1979 peace deal.
"A special aircraft brought back to Israel on Saturday the families of diplomats and other official envoys, as well as about 40 Israelis on private visits to Cairo who wished to leave," said foreign ministry spokesman Yigal Palmor.
The Israeli ambassador to Egypt remains in the country.
Israel on Saturday kept a low profile over the unfolding events in Egypt, where protesters have pressed for the ouster of longtime President Hosni Mubarak, fearful of being accused of interfering.
But a senior official expressed concern over the possible fall of Mubarak.
"The most worrying thing is the climate of uncertainty that is widespread in the country, the most influential in the Middle East," the official, speaking on condition of anonymity, told AFP.
He highlighted the "strategic and economic links of prime importance" between Israel and Egypt, which in 1979 became the first Arab country to sign a peace treaty with the Jewish state.
But the regime is expected to survive even at the price of a change of leadership, he said.
Israeli Prime Minister Benjamin Netanyahu on Friday explicitly warned ministries and spokesmen not to comment publicly on events in Egypt, according to one government source.
The foreign ministry, which is in permanent contact with its embassy in Cairo, is holding intensive consultations on developments.
Source: Agence France-Presse