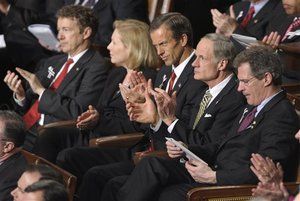 Wasington - Tea party-backed Republican Sen. Rand Paul favors cutting U.S. aid to Israel as part of a deficit-driven effort to slash government spending by $500 billion this year, drawing criticism from Democrats and Republicans who argue the U.S. must be unwavering in its support for the longtime Mideast ally.
The freshman Kentucky lawmaker unveiled his budget proposal this week that would make significant cuts in education, housing and energy while reducing money for wars in Afghanistan and Iraq by $16 billion. Paul's plan also would cut some $20 billion in overseas aid, and he said he wants to eliminate the $3 billion the United States provides to Israel annually in foreign military assistance.
"The overwhelming majority of Americans agree with Senator Paul - our current fiscal crisis makes it impossible to continue the spending policies of the past," Paul spokesman Gary Howard said in a statement responding to the criticism. "We simply cannot afford to give money away, even to our allies, with so much debt mounting on a daily basis."
The latest economic forecast puts the deficit at a record $1.5 trillion.
Paul explained his position in an interview with CNN on Wednesday, saying he respects Israel as a Democratic nation but feared funding an arms race in the Mideast. His proposal drew a swift response from Republicans and Democrats.
"We share Senator Paul's commitment to restraining the growth of federal spending, but we reject his misguided proposal to end U.S. assistance to our ally Israel," said Matthew Brooks, executive director for the Republican Jewish Coalition, in a statement Thursday. The organization counts several former senior Bush administration officials on its board of directors.
Rep. Nita Lowey of the New York, the top Democrat on the House Appropriations subcommittee that oversees foreign aid, said the United States cannot renege on its commitment to the only Democratic nation in a dangerous region.
"Using our budget deficit as a reason to abandon Israel is inexcusable," Lowey said in a statement. "It is unclear to me whether Rand Paul speaks for the tea party, the Republican Party or simply himself. I call on all those who value the U.S.-Israel relationship to make it clear that our nation will not abandon our ally Israel."
The United States has stood staunchly with Israel for decades, through various governments in Washington and Jerusalem. The United States and Israel signed a memorandum of understanding several years ago to ensure Israel's military edge in the region. Under the agreement, Israel received $2.8 billion in U.S. dollars in the last fiscal year and is slated to get $3 billion in the current year.
The agreement calls for $3.1 billion in U.S. funds to Israel over a five-year period beginning with the next budget.
Last November, Vice President Joe Biden met with Israeli Prime Minister Benjamin Netanyahu and told the Jewish Federation of North America that the Obama administration "represents an unbroken chain in American leaders who have understood this critical strategic relationship.".
The steadfast support for Israel is widespread in Congress and Paul's proposal is certain to face strong opposition. In a fresh example of that support, six senior members of the House sent a letter to President Barack Obama imploring him to promise a veto of a pending U.N. resolution that condemns Israel and urging him to pressure Palestinian leaders to negotiate directly with Israel.
Signing the letter were House Majority Leader Eric Cantor, R-Va.; House Democratic Whip Steny Hoyer, D-Md.; Foreign Affairs Chairwoman Ilena Ros-Lehtinen, R-Fla.; the panel's top Democrat, Rep. Howard Berman of California, and the heads of the committee's subcommittee on the Middle East, Reps. Steve Chabot, R-Ohio and Gary Ackerman, D-N.Y.