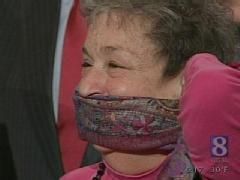 Rules Committee Turns Into Shouting Match
It was all going so well in the state House of Representatives. Lawmakers were positioned to vote on several bills Wednesday that would change the way state government in Pennsylvania operates, and then the wheels came off.
"You should be ashamed of yourselves," one lawmaker could be heard yelling.
News 8 government reporter Matt Belanger reported that there was shouting, profanity, and accusations. It culminated with one person throwing a stack of papers into the air and Democrats storming out of the room.
Here's how it all started. Republicans fired first, accusing Democrats of "gumming up the gears" of government. Democrats proposed a wave of amendments to previously non-controversial reform bills, which in the words of Republican Majority Leader Rep. Mike Turzai "was designed to create a circus atmosphere on the House floor."
In response, Republicans forced through changes to make it easier for them to push aside amendments they don't agree with.
"This is an unprecedented attack on the people's, our ability, to represent our constituents," said Democratic Minority Leader Frank Dermody.
Furious Democrats claimed they were being cut off from having a voice.
One lawmaker
used her scarf as a symbolic gag.
"They get to decide what gets voted on and it only gets voted on if they have the votes to pass it. Why even have session?" said Democratic Rep. Mike Sturla.
"We're off to a very bad start, if this is the way its going to be," said Republican Rep. Glen Grell.
What this means for Pennsylvania state government is, at least for now, reform is stalled. Republicans could choose to force the measures through next week. But there are worries that it may only only worsen Harrisburg's partisan divide.
Images
: House Meltdown In Pictures
Video
: Pa. Lawmakers Meeting Devolves Into Shouting Match