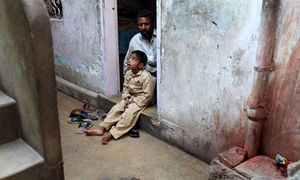 Zardari launches emergency drive to safeguard under-fives after virus infection rates in Pakistan rise by 65%
Beset by war against violent extremists, Pakistan is now thrusting itself on to the frontline of a silent battle: the world's final assault on polio.
Asif Ali Zardari, the country's president, is launching an emergency drive to immunise 32 million children under the age of five against polio, aiming to reverse an alarming surge in cases last year.
Under the plan, to be launched , tomorrow armed police and paramilitary soldiers will protect teams of vaccinators in the most dangerous areas, a presidential spokesman said.
Bill Gates, who met Zardari in Washington last week, is funding the effort with a $65m donation through the Gates Foundation.
Pakistan's polio crisis represents one of the last big hurdles in a 23-year campaign run by the World Health Organisation. Doctors say they are on the cusp of eradicating the disease, with infection rates falling elsewhere. In Pakistan, however, the infection rate has risen by 65%, undoing progress made over the last decade.
One problem has been last summer's floods, which displaced millions of people across a vast swath of countryside. But the principal driver is seen to be the Taliban-driven conflict in the north-west.
The tribal belt has long been rumoured to shelter Osama bin Laden. Now, it turns out, it is a safe haven for the fugitive polio virus. Between Taliban attacks and US drone strikes, vaccination is impossible in many areas. Fighters have killed health workers, and conservative mullahs have denounced the vaccine as part of a western conspiracy to sterilise Muslim children.
Last year the tribal belt accounted for half of all infections in Pakistan. The worry now is that the disease will spill into other parts of the country where it had been beaten back previously.
In Karachi, a city of 18 million people, health authorities saw no infections for most of last year. Then, in December, two fresh cases emerged - a disaster because for every confirmed case another 200 children are likely be carrying the polio virus.
One victim is six-year-old Zahid. His relatives describe him as a happy boy with a quick smile and passion for flying kites from the roof of his home - "a cheeky little devil", his uncle said. One day Zahid's legs buckled as he skipped down an alleyway and he tumbled. Now when his mother lifts him off the ground, his limbs swing like useless pendulums. "It happened so suddenly," she said.
Across the world, polio is in retreat. Pakistan is one of just four countries where it is still endemic; two of the others are making startling progress. Authorities in Nigeria and India wiped out 95% of cases in 2010; experts predict the disease could be eradicated in both countries within six months. "We're 99% of the way there," said Chris Maher, a WHO expert leading the campaign.
But the final 1% has proved elusive. Several African countries, which had previously eliminated the disease, saw serious outbreaks last year. And in Pakistan 144 children showed serious symptoms , indicating that at least 30,000 more were infected. "It's very frustrating," said one health worker in Karachi.
The problem is partly driven by migration from Taliban-affected areas into the populous cities, where poor, cramped living conditions provide a breeding ground for the virus. Zahid was thought to have been infected after playing in a fast-flowing sewer behind his home.
Superstition and tradition also play a role. Mariam is a seven-month-old girl whose family of migrant labourers from Bannu, on the edge of the tribal belt, live at the edge of the city. She too became infected. Her grandfather, a Pashtun tribesman, recently confronted health workers seeking to enter his home. "You told me she's never going to recover. So what's the point of anyone coming in?" he shouted angrily.
He says he has given up on modern medicine; his faith is now only in God. Nobody could see Mariam, he explained, because a preacher had ordered him to sequester her in the house for 40 days. "That might cure her," he said hopefully.
Ahmed Ali, a health worker, trudged away from Mariam's house. "We often get refused around here. These Pashtuns are suspicious of strangers, they won't let us in," he explained.
But while the Taliban insurgency is the main hurdle, it is not insurmountable (the UN recently carried out a successful campaign in Somalia). Of equal concern is the government's ability to deliver. Zardari's teenage daughter Aseefa will lead the immunisation campaign, focusing on the 33 worst-hit districts. But Zardari's weak government is also part of the problem. Corruption and inefficiency constrain immunisation efforts in some areas; last year Rotary International complained about mismanagement in the Lahore area of Punjab.
"In Nigeria we had a very broad engagement. We're not getting that in every part of Pakistan," said Maher.
Under the emergency plan the chief ministers of Pakistan's four provinces, plus the governor of Khyber Pakhtunkwa (previously known as North-West Frontier Province) will be responsible for progress. But the final battle would need greater funding and political will, Maher added. "We already know how to beat polio. Now we just need to do it."