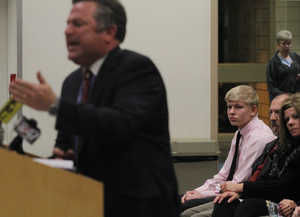 Clovis, California - The Clovis Unified school board voted unanimously Wednesday night to expel a Buchanan High student, concluding that a wrestling move he used on a teammate during practice constituted sexual battery and bullying.
Preston Hill, 17, and his parents left before the decision was announced.
"They thought it would be a waste of time to stick around," said attorney Charles Magill, who made a last-ditch effort to get Hill reinstated at Buchanan.
The board deliberated privately for fewer than 30 minutes before announcing the decision at a public hearing at Clovis Unified School District headquarters.
Hill, who was suspended before the school year started, now can't finish his senior year at Buchanan or set foot on Clovis Unified property. His options include enrolling in another school district or attending a charter or private school.
The expulsion came the same day Hill appeared at a pretrial hearing in Fresno County Superior Court, where he faces a criminal charge of sexual battery. Sources say prosecutors want to resolve the case before Hill's trial on Jan. 27.
The alleged victim told Clovis police that Hill rammed two fingers into his anus during wrestling practice in July. Hill, however, told police he was employing a legitimate wrestling move called a "butt-drag" when he grabbed the boy's butt cheek -- not his anus.
Officially, the school board board Wednesday upheld a Jan. 14 ruling by a three-member school panel that concluded Hill, a senior, had sexually assaulted a freshman teammate.
The board also upheld the panel's other finding to support Hill's expulsion: that he bullied his teammate, committed an obscene act, and caused or attempted to cause physical injury to the teammate.
At the Jan. 14 hearing, Buchanan wrestling coach Tyrell Blanche and several teammates said Hill never would have intentionally hurt another teammate.
But the alleged victim and his parents testified that Hill had bullied his younger teammate, made a threatening gesture during weight lifting, and then rammed two fingers up the boy's anus during practice to humiliate and abuse him.
Another wrestler submitted a sworn declaration that he saw Hill make a threatening gesture during weight lifting.
Typically, expulsion hearings are confidential. But Hill's parents asked for his to be public. During Wednesday's hearing, the school board referred to Hill as student No. 62.
Sherri Poindexter, whose son wrestles at Clovis North High, became emotional when she told the board that its decision could affect other sports: Will a coach get punished for slapping a player on the buttocks after he makes a great play, she asked. Will a quarterback get in trouble when he touches the rear end of a center who is hiking the football?
Magill implored the board to give Hill a second chance. He attacked the alleged victim's credibility, even though he was warned by the school board's attorney not to discuss the boy's testimony.
Clovis Unified attorney Tom Manniello, however, told the board that the boy was lying on his stomach when Hill assaulted him.
He said Blanche has said a wrestler would not use the "butt drag" move on an opponent in that position.
Magill said he will appeal the expulsion to the Fresno County Office of Education.
The alleged victim's father, however, said the evidence is clear.
"The board's action sends a strong message that bullying will not be tolerated not only here, but everywhere," he said.