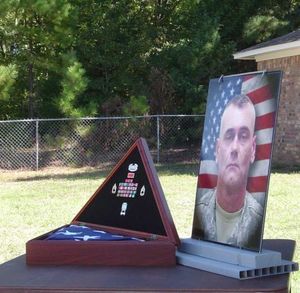 At least 22 confirmed last year in and around Fort Hood, doubling the post's total from 2009.
Killeen, Texas - Sgt. 1st Class Gregory Eugene Giger was a "tall quiet Texan" even after his wife filed for divorce while he was in Iraq, his mom says.
Still, he was devastated.
"The only thing that I know is when she sued for divorce, she charged him with $2,000-a-month child support and insisted that he pay half of the house," said Helen Giger, 71, of Chandler, east of Dallas. "And by the time she got through charging him with various things, he had very little money left over, not even hardly enough to pay for his rent."
Authorities found Giger, 42, of Houston dead in his apartment near Fort Hood, hanging by necktie. He was one of at least 22 GIs from the post to commit suicide in 2010.
The Fort Hood mark is a new record for the post and contributed to the Army's worst year for suicides. There was, however, a sign of hope in the grim tally. Slightly fewer active-duty soldiers died by their own hand compared with 2009. But there was bad news, too: The number of suicides in the National Guard and Army Reserve rose sharply.
The Army's vice chief of staff, Gen. Peter Chiarelli, told the
San Antonio Express-News
that suicides at or near Fort Hood have increased as more soldiers have returned from combat.
Fort Hood's 22 confirmed suicides, meanwhile, doubled its 2009 mark and was eight more than Fort Bragg, N.C., which had the second-largest tally.
And the Fort Hood mark could grow since some deaths haven't been resolved. Others will remain mysteries, like that of Sgt. Bradley Dale Penman, 34, of Punxsutawney, Pa. Justice of the Peace Garland Potvin of Killeen said that Penman's body, found last summer, was so decomposed no cause of death could be determined.
The Pentagon has launched mental health and suicide-prevention programs and created an Army task force in hopes of turning the tide. In 2008, the Army began a five-year study with the National Institute of Mental Health. That research effort examines risk and resilience factors associated with suicides. A new military research consortium will test and develop interventions.
So far, however, little has changed. The vast majority of the victims were men, with the bulk of the soldiers coming from lower enlisted ranks.
Eighteen of last year's 301 suicides were women, prompting Chiarelli to tell reporters on Wednesday that resiliency among females in some cases "seems to be higher" than for men. That could explain "why we have a lower suicide rate in women based on the number that we have deployed," he said.
Time in the war zone is one factor in the deaths. Roughly two in three active-duty soldiers committing suicide have gone to war, while nearly half of all guardsmen have fought. But other issues also are in play, including depression, alcohol and drug abuse, failed or failing relationships, financial woes, and legal or disciplinary troubles.
The Army Reserve's chief, Lt. Gen. Jack Stultz, said his troops often are far from their units when not on duty. Leaders now must maintain greater contact with their troops, he said.
"Dwell" time at home is another factor. Chiarelli predicted that "when we put more time between deployments, that is going to be a huge factor in helping us get at these problems."
Giger had spent close to a quarter-century in the Army and been to Iraq three times since 2004, receiving two Bronze Star medals for valor. If he felt stress from the divorce and financial problems, he didn't let on.
"I think he probably had a lot going on that he just stuffed down inside of him," Helen Giger said.
Chiarelli told reporters that he believes the programs instituted by the Army in recent years have saved lives, but Col. Carl Castro, director of the medicine research program that established the suicide consortium, said no one is sure of their effectiveness.
"We think they're effective," he told the
Express-News
, "but we haven't done the research to demonstrate that they may in fact be effective."
Chiarelli pointed to the Army's Comprehensive Soldier Fitness program, which offers screening tests for soldiers, family members and Army civilian workers, as one successful effort. He said research comparing soldiers who committed suicide against a control group showed that, "broadly speaking, resilient soldiers do not complete suicide."
The Army has pocket guides on suicide awareness, and Fort Hood has started its own stress-reduction programs and a soldier "resiliency campus."
The post's senior commander, Maj. Gen. Will Grimsley, ordered commanders to inspect soldiers' cars and on- and off-post homes after four GIs committed suicide over three days in September.
A trend of increasingly public suicides last year, one in the restroom of a Killeen sandwich shop and another at the end of a police chase near Waco, was a concern for Grimsley, who sought to identify GIs who might be suicide risks.
"I worry about the trend," he said in October. "The violent nature of it concerns me only because the potential is that it's bad enough if a soldier chooses to kill himself by violence but the potential impact on others, that that notion of violence could spread to somebody else either by accident or by design."