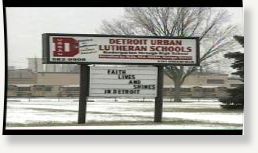 Detroit, Michigan -- A Detroit school is trying to find funds to turn its gas and electric back on after falling behind on a $100,000 bill.
A representative for DTE Energy said it turned power off to Detroit Urban Lutheran School as a last resort.
Principal Dave Siefker said he tried working with the utility company but has only been able to come up with $10,000.
"We have students, parents and teachers working through every kind of fundraiser that you can imagine," he said. "But fundraising is not going to fund our school. Donations, only major donations, probably."
The school has been opened and closed a few times since December. The school's 138 students have missed a little more than a week's worth of classes since the start of the year.
"Our goal is definitely to continue the school," Siefker said.
Despite having to have her two daughters study at home, parent Lisa Clayborn said she's satisfied with the school and doesn't want to see the school close permanently.
"I love Detroit Urbane. I think they have a lot to offer kids and the community," she said. She said she will continue to see what happens with the school in the next week. If nothing is resolved, "we'll have to move on," she said.
Clayborn said students pay $3,100 a year to attend the school.
Siefker said if the power can't be turned back on at the school's current building on Greenfield Road, he'll consider moving classes to another smaller building.