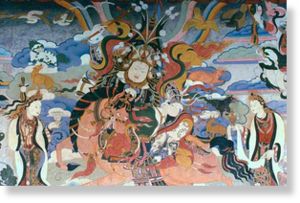 When giant, human-shaped footprints were found stamped in rock at a construction site in Tibet in 1999, local residents celebrated what they believed to be the discovery of ancient traces left by the legendary figure King Gesar, the hero of an epic poem at the heart of Tibetan history. But two leading Canadian paleontologists have published a study revealing the more earthly origins of the metre-long prints - an enormous dinosaur that made tracks along a Tibetan mudflat about 150 million years ago.
The finding, due to appear in the next issue of the
Geological Bulletin of China
, represents the first documented dinosaur trackway in Tibet. But it isn't likely to deter locals from leaving respectful offerings to King Gesar at the site of the fossilized footfalls, says the University of Alberta scientist who led the study.
Lida Xing, who co-authored the footprint study with his U of A colleague and famed fossil hunter Philip Currie, said the research site in Tibet was frequently shrouded with gifts left by local residents as a tribute to the mythic king.
"Some Tibetans believed the footprints were left by warrior King Gesar," Xing told Postmedia News. "Lots of khatas - a traditional ceremonial scarf used in Tibet and Mongolia - were hung all over the footprint site."
Xing said the Gesar epic is captured in "folk tales, legends, folk songs and proverbs," from the mountainous, semi-autonomous region of China.
"It has been passed down orally and musically from one generation to the next," he said. "Even today, the epic is still widespread among the Tibetan people, especially among farmers and herdsmen."
But the two Canadian researchers, along with paleontologist Jerald Harris of Utah's Dixie State College, compared the markings at the Tibetan site to other dinosaur trackways from around the world, including Canada.
They concluded that the footprints, up to 112 centimetres in length, were created by a Jurassic-era sauropod such as Apatosaurus - a 23-metre, 23-tonne monster of the Jurassic era.
The way tracks were laid down by such creatures, said Xing, they "look like human footprints, which is the source of the locals' imagination."
In the
Geological Bulletin
study, the researchers note that some Tibetans believe the trackways represent markings left by a "deity of the mountains" who ran away from the area after being alarmed by the 1999 construction activity.
"These footprints, which were made by sauropod dinosaurs, have now become a tourist attraction."