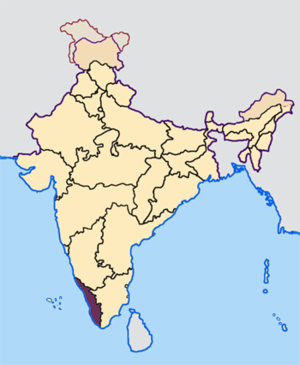 A string of neolithic posthole sites, considered to be used by ancient people for the construction of pillared halls, have been found in Palakkad district in south Indian state .
A group of researchers, led by V Sanal Kumar, Director of the Palakkad-based Geo-Heritage Archaeology Research Centre, recently unearthed around 13 such sites in various locations of the district.
While a large number of sites were found in the rocky plateaus at Thenmala in Western Ghats in the Palakkad gap zone, some others were found on the banks of Ikshumathipuzha--a tributary of the Gayathripuzha flowing through Kollengode, Muthalamada and Elevanchery here.
The remnants of a similar site was also found at Polpully, about 20 km away from Thenmala, researchers said.
Experts said the socket remains would throw light into the lifestly and activities of anicent inhabitants in Palakkad gap and the surrounding areas.
They might have been used the postholes for fixing beams to cover tops or as steps to reach the top.
The presence of greenish valley, granite hillocks, caves, magestic hill ranges, availability of food and water and easy accessibility to peninsular India through the Palakkad gap might have encouraged the ancient men to settle in the region, the researchers assumed.
Archaeologists said they had made postholes when they changed their habitat from caves and rock shelters to the granite plateaus, surrounded by agricultural land.
Similar postholes on rock surface were recovered at Nagarjunakonda and Brahmagiri sites in Andhra Pradesh also recently.
The socket remains found in Palakkad had similarities to that found in Nagarjunakonda and Brahmagiri and they all might have been part of a Neolithic settlement between 4000 and 1000 BC, studies states.
Remains of some ancient artifacts and rock engravings were also recovered from the peripheries of the posthole sites here, researchers said.