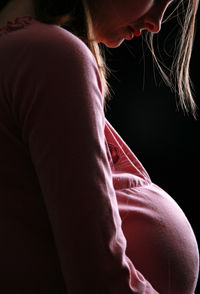 A new campaign to prevent teen pregnancies has been launched in Memphis in response to a huge spike in expectant mothers at one area high school.
According to recent statistics, 86 students at Frayser High School are pregnant or have given birth in the last year, myfoxmemphis.com
reported
.
The new campaign - called "No Baby!" - is designed to educate both teenage girls and boys about how to prevent and deal with unplanned pregnancies. The program is also tailored to give girls the confidence to "just say no" to sex.
"Right now, these girls don't know how to say 'no,' they're having sex when they don't want to, they just don't know how to say 'no,'" Deborah Hester Harrison with Girls Inc., which is a nonprofit group, told the news station.
Another concern for these young mothers is the lack of prenatal care.
"A lot of these girls aren't developmentally ready to be really effective parents, and that affects the child's development," Marc Goodman-Bryan with the Urban Child Institute said.
Dr. Manny Alvarez, senior managing health editor of FoxNews.com and Chairman of the Department of Obstetrics and Gynecology and Reproductive Science at Hackensack University Medical Center in New Jersey agrees and said those issues are just the beginning.
"Teen pregnancies are high risk. For some of these girls, the risk factors include premature delivery, pregnancy-induced hypertension and many times, you have a higher incidence of Caesarean sections due to cephalopelvic disproportion, which happens when a the fetus is too large to fit through the pelvis."
Last month, U.S. health officials released new government figures for 2009 showing 39 births per 1,000 girls, ages 15 through 19 - the lowest rate since records have been kept on this issue. Yet, the sobering context is that the teen pregnancy rate is far lower in many other countries.
The most convincing explanation is that contraceptive use is much higher among teens in most Western European countries.
Harrison said the teen pregnancy rate for Memphis fluctuates between 15 and 20 percent, which is almost twice the national average.
In the school's zip code - the pregnancy rate is about 26 percent.
"We're looking at ways to combat it, and we're trying to combat it in the area where the need is the greatest," Harrison said.
In addition to the "No Baby!" campaign, Memphis school officials are also looking at ways to combat this problem by hiring new social workers, putting new programs in place, as well as providing support for teenage moms.
"It's upsetting that we continue to see the rates of teen pregnancy ticking up in certain areas," Alvarez said. "I think we really need to focus on education - that's really the key."
Source: The Associated Press