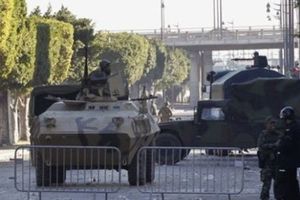 Violence continues to rage in various parts of Tunisia one-day after a historic revolution ousted president Zine El Abidin Ben Ali from power.
Parliament speaker Fouad Mebazaa was sworn in as the interim president on Saturday.
In a televised address, Mebazaa said all political parties including the opposition would be consulted in the country's new political atmosphere.
"All Tunisians without exception and exclusion must be associated in the political process," he said after taking the oath. Under the constitution a new presidential election must be held within 60 days.
Soon after taking office, Mebazaa called on Prime Minister Mohammed Ghannouchi to form a unity government.
Reports say scores of inmates have been killed in an inferno at a jail in eastern Tunisia. The blaze started when an inmate set fire to a mattress in a dormitory in an attempt to escape.
The central railway station and a market in Tunis were also set on fire. Lootings in shopping centers have been reported across the city.
Moreover, European tour operators evacuated thousands of vacationers from Tunisia, AFP reported.
Police arrested several people in central Tunis during an overnight curfew.
Tunisian airports were reopened after Ben Ali fled to Saudi Arabia.
Ben Ali ruled Tunisia for more than two decades. His era was marred by repeated human rights violations and torture.