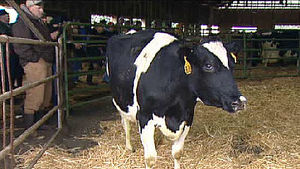 Seattle - Federal authorities have sued a northwest Washington dairy that they claim has a long history of selling cows for slaughter even though their tissues contained drug residues deemed unsafe to eat.
The 850-cow Rhody Dairy LLC of Sumas was charged civilly in U.S. District Court in Seattle this week with violations of the federal Food, Drug and Cosmetic Act.
The complaint says that
seven times in the past decade, the U.S. Department of Agriculture has issued letters to the dairy warning that cows it offered for sale tested positive for illegal levels of antibiotics, anti-inflammatory medications or other drugs
.
The Justice Department said that despite the warnings, the dairy administered the drugs to its cattle in unapproved dosages or without prescriptions, or that it failed to observe proper drug withdrawal times before offering the cows for slaughter. They also say the dairy refused to keep treatment records for the animals.
"Defendants' poor record-keeping and improper drug administration practices constitute insanitary conditions whereby the food (edible tissues of their animals) may have been rendered injurious to health," the complaint said.
Rhody Dairy sells cows for slaughter and sale to consumers in states including Alaska, Arizona, California, Colorado, Idaho and Oregon. Owner Jay De Jong, who is also named as an individual defendant, did not immediately return a message left at his home by
The Associated Press
on Saturday.
Federal officials inspected the dairy in March and July after three cows tested positive.
One of the cows had an excess of the anti-inflammatory flunixin in its liver, while the other two had excess antibiotics in their kidneys.
The inspections found that the dairy's records didn't include dosage amounts, how the drugs were administered, who administered them or how long the drugs would take to pass through the animals, the complaint said. Until last June, the dairy documented treatments on a white board, which was erased daily or after cows were released from the dairy's hospital pen.
The complaint seeks an injunction that would order the dairy to comply with the law.