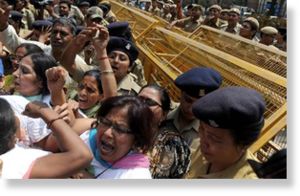 Strained by rising demand and battered by bad weather, the global food supply chain is stretched to the limit, sending prices soaring and sparking concerns about a repeat of food riots last seen three years ago.
Signs of the strain can be found from Australia to Argentina, Canada to Russia. On Friday, Tunisia's president fled the country after trying to quell deadly riots in the North African country by slashing prices on food staples.
"We are entering a danger territory," Abdolreza Abbassian, chief economist at the U.N.'s Food and Agriculture Organization (FAO), said last week.
The U.N.'s fear is that the latest run-up in food prices could spark a repeat of the deadly food riots that broke out in 2008 in Haiti, Kenya and Somalia. That price spike was relatively short-lived. But Abbassian said the latest surge in food stuffs may be more sustained.
"Situations have changed. The supply/demand structures have changed," Abbassian told the Australian Broadcasting Corp. last week. "Certainly the kind of weather developments we have seen makes us worry a little bit more that it may last much, much longer. Are we prepared for it? Really this is the question."
Price for grains and other farm products began rising last fall after poor harvests in Canada, Russia and Ukraine tightened global supplies. More recently, hot, dry weather in South America has cut production in Argentina, a major soybean exporter. This month's flooding in Australia wiped out much of that country's wheat crop.
As supplies tighten, prices surge. Earlier this month, the FAO said its food price index jumped 32 percent in the second half of 2010, soaring past the previous record set in 2008.
Prices rose again this week after the U.S. Department of Agriculture cut back its already-tight estimate of grain inventories. Estimated reserves of corn were cut to about half the level in storage at the start of the 2010 harvest; soybean reserves are at the lowest levels in three decades, the USDA estimates, in part because of heavy buying by China. The ratio of stocks to demand is expected to fall later this year to "levels unseen since the mid-1970s," the agency said.
"I haven't seen numbers this low that I can remember in the last 20 or 30 years," said Dennis Conley, an agricultural economist at the University of Nebraska. "We are at record low stocks. So if there any kind of glitch at all in the U.S. weather, supplies are going to remain tighter and we might see even higher prices."
Higher oil prices are also pushing up the cost of food - in two ways. First, the added shipping cost raises the delivered price of agricultural products. Higher oil prices also divert more crops like corn and soybeans to biofuel production, further tightening supplies for livestock feed and human consumption. Conley estimates that more than a third of the corn produced in the U.S is now used to make ethanol.
Despite tightening supplies, the rise in food prices has been much tamer in the developed world. On Friday, the U.S. Bureau of Labor Statistics reported that food prices at the consumer level rose just one-tenth of one percent. On Thursday, the government reported that the food component of the Producer Price Index rose just 0.8 percent in December. For all of 2010, food prices at the producer level rose 3.5 percent.
The reason for the modest price rise in the U.S.? People living in developed countries eat more processed foods, so raw materials make up a much smaller portion of the total retail cost.
"In this country, a much higher proportion of your food dollar is spent on processing, advertising and promotion and marketing," said Tom Jackson, a senior economist with Global Insight. "There's not really that margin built in between the farmer and the consumer in the developing countries."
Food price spikes hit less-developed countries much harder because a greater share of per capita income - half or more - goes to pay for food. U.S. consumers, on the other hand, spend an average of about 13 percent of disposable income on food.
The impact of higher prices is blunted somewhat in countries that subsidize food to stabilize costs, but the trend in prices may make those subsidies unsustainable. Last month, Iran deployed squads of riot police to maintain order after slashing subsidies for food and gasoline. In September, 13 people were killed in street fighting in Mozambique after the government cut subsidies it could no longer afford, sparking a 30 percent rise in bread prices.
Though strong global demand and tight supplies are bringing misery to some poor countries, the price surge is a sign of improving conditions in emerging economies. That's because increased demand is caused in part to rapidly rising standards of living, according to David Malpass, president of economic research firm Encima Global.
"Some of the gains in prices in Brazil and India are because people are better off," he said "So we have to expect some inflation in those countries as people earn more and more per year."