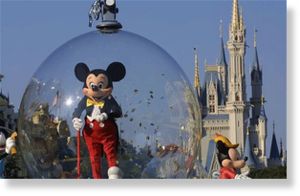 A nine-year-old boy's dream trip to Disney World was ruined when US immigration officials ruled he was a threat.
Civil servants Kathy and Edward Francis planned to surprise their grandson Micah Strachan with the holiday of a lifetime to Florida in February.
They were only going to tell Micah about it when they took him to the airport on February 19 for the flight to the US.
They had already spent more than £1,500 on plane tickets and had been organising the trip for months.
But this week US Embassy officials denied the schoolboy a visa to enter the US.
They said there was a risk he would not leave the US at the end of his holiday and refused his application under Section 214 (b) of the Immigration and Nationality Act.
Micah was born in Britain and has lived in Middlesex all his life with his mum Claudia Lewis.
He holds a South African passport because his grandparents Kathy and Edward, who have lived and worked in Britain since 1990, only got him a South African passport.
They are originally from South Africa.
A letter from Micah's primary school was included in his visa application confirming he attended the school.
But the US Embassy's rejection letter to Micah said: "Because you either did not demonstrate strong ties outside the United States or were not able to demonstrate that your intended activities in the US would be consistent with the visa status, you are ineligible."
His grandmother Kathy, from Brixton, South London, said: "It was going to be a total surprise. He would have loved it.
"We feel so deflated by the whole experience.
"I want to know why he would be deprived of the holiday of a lifetime.
"It's crazy to think that he wouldn't leave the country. This is causing severe stress on the family. I am going to fight this."
Tessa Jowell, Labour MP for Dulwich and West Norwood, said: "I was very concerned to learn about the situation facing my constituents and of course understand the distress the decision has caused.
"I have asked the American authorities to look again at this and very much hope they will feel able to reconsider their decision."
Meanwhile, the family have written to US President Barack Obama and Secretary of State Hillary Clinton to ask for an explanation of the decision.
A US Embassy spokesman said it was "not policy" to comment on individual immigration cases.