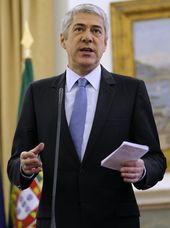 Portugal insists that it does not need an international bailout to solve its debt problems. It faces a bond auction Wednesday that could reveal the price of going it alone - and perhaps even add to the European financial crisis.
Investors have identified the debt-burdened country as the potential next victim of the crisis and have pushed its borrowing costs to barely sustainable levels by demanding higher premiums to lend it money.
Market tensions were eased slightly Tuesday after Japan, taking advantage of high interest rates and echoing a similar pledge by China, said it would help finance European bailout efforts.
Portuguese Prime Minister Jose Socrates sought to soothe frayed nerves with evidence that his government, which has introduced pay cuts and tax hikes, is reducing its budget deficit. Preliminary data show last year's will be below the government target.
"The government is doing its job and is doing it well," Socrates told a news conference. "I'd like to stress again that ... Portugal won't request any financial help for the simple reason that it doesn't need it."
But reports have said Germany and France, Europe's two main financiers, are pushing Lisbon to accept assistance to keep the debt crisis from spreading to bigger countries that would be much costlier to rescue.
Portugal represents only around 2 percent of the eurozone's gross domestic product - about the same as Greece and Ireland, which last year needed massive bailouts from Europe and the International Monetary Fund.
Analysts estimate Portugal would require a bailout of $65 billion to $130 billion. A rescue for Spain, which is also deep in debt, would be many times larger.
Finance Minister Fernando Teixeira dos Santos vented frustration at a perceived lack of help from fellow European nations to keep Portugal from having to take financial help. Bailouts come with strings attached - more painful austerity - that erode a country's ability to control its fiscal policy.
"We are doing our job. Clearly, Europe is not doing its job to defend the stability of the euro," he said on TSF radio. He did not elaborate.
Within the eurozone, the European Central Bank has shouldered the main task of stabilizing markets by quietly buying up the bonds of Europe's most indebted countries, like Portugal, Ireland and Greece, on capital markets. Buying bonds supports their prices and lowers bond yields.
But more help is coming from outside the region.
Japan pledged to contribute about a fifth of the European bailout fund's next bond issue, which is estimated at about $6.5 billion.
China had earlier vowed to help Portugal, as it has supported Greece and Spain, by buying their debt. Though details have not been released, reports suggest China is ready to invest at least $5.2 billion.
Those amounts pale next to what the two countries hold in American debt. According to the most recent U.S. government data. China, the largest foreign holder of American debt, had $907 billion, and Japan, the next-largest, had $877 billion.
Analysts say the Asian countries are probably interested in the higher yields in Europe as well as stabilizing world markets among key trade partners. China, long vilified by the U.S. and Europe for keeping its currency weak to boost exports, may be seeking political goodwill.
The extent of Portugal's market problems will become clearer Wednesday, when the government auctions off 3-year and 9-year bonds. Poor demand or punishingly high interest rates at the auction would deepen tension over the continent's financial woes.
Analysts think Portugal will raise the money, but at a heavy price.
The yield on Portuguese 10-year bonds, a telling yardstick of investor sentiment, recently peaked at a euro-era record of just over 7 percent, compared with about 3 percent for eurozone powerhouse Germany.
That level of interest on loans is not far off the rates that eventually forced Greece and Ireland to concede defeat after months of rejecting a bailout.
The new deficit data and Japan's pledge to support European debt helped Portugal's 10-year bond yield decline to 6.87 percent.
Among other heavily indebted countries, Italy has also seen its yields rise, but it had no problem selling about $9 billion in 12-month bonds offered Tuesday.
More worrying are Belgium, whose expected debt level of 98.6 percent of GDP in 2010 would be the third highest in the EU behind Greece and Italy, and Spain, which is emerging from nearly two years of recession. Madrid is holding a bond auction Thursday.
Socrates, the Portuguese prime minister, said his government's deficit cuts are among the sharpest in the 17-nation eurozone and that the government would drive down the deficit to 4.6 percent this year. Preliminary data indicated that last year's deficit would be below the government's target of 7.3 percent. Portugal's 2009 deficit of 9.3 percent was the fourth-highest in the eurozone.
However, much of last year's deficit reduction came from tax increases and one-time factors, while public spending continued to grow. And the outlook is not bright. The Bank of Portugal said Tuesday it expected the economy to sink back into recession next year because of the austerity measures