As the economy revs back to life, with
signs of hiring on the horizon
, the housing market is being left behind like Macaulay Culkin in
Home Alone
.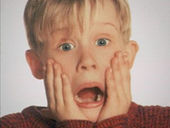 In the past few years, we've all been careful to choose our words carefully, not calling it a recession until it fit the technical definition and avoiding any inappropriate use of the "D" word - Depression.
Things were bad but the broader economy never reached Depression territory.
The housing market, on the other hand, just crossed that threshold.
Home values have
fallen 26 percent
since their peak in June 2006, worse than the 25.9-percent decline seen during the Depression years between 1928 and 1933, Zillow reported.
November marked the 53rd consecutive month (4 ½ years) that home values have fallen.
What's worse, it's not over yet: Home values are expected to continue to slide as inventories pile up, and likely won't recover until the job market improves.
And while the president is physically protected in an emergency, whisked to a bunker at an undisclosed location, the actual White House is not: The value of
1600 Pennsylvania Avenue
has dropped by $80 million, or nearly 25 percent since the peak of the housing boom. It's current value is $251.6 million, according to Zillow, down from $331.5 million.
Oh-h say can you see ... by the dawn's ear-ly light ...