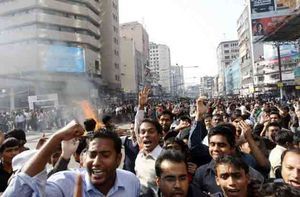 Angry investors take to streets as Dhaka's stock exchange crashes.
Police in Bangladesh used tear gas and water canons to disperse angry protests by crowds of small investors after a dramatic free-fall plunge on the country's stock market caused the authorities to suspend trading.
Hundreds of outraged investors took to the streets outside the stock exchange in the Motijheel neighbourhood of the nation's capital after the worst plunge in the country's history saw the Dhaka Stock Exchange (DSE) fall by 660 points, or 9.25 per cent, in less than an hour.
Chanting slogans that accused brokers and traders of manipulating stock prices and of the government of failing to properly regulate the situation, the small-scale investors smashed up cars, burned tyres and ran loose until police stepped in to break them up. There were other protests in smaller cities and towns. Four journalists were reportedly beaten by police.
Last night, with trading due to restart later today in both Dhaka and the country's second city, Chittagong, Bangladesh's prime minister, Sheikh Hasina, met with senior financial officials including the governor of the central bank, and ordered them to take steps to try and ease the crisis. The Securities and Exchange Commission (SEC), after an emergency meeting with the central bank, said trading - which was halted yesterday after just an hour - could resume.
But the crisis that began on Sunday, when the DSE's bench mark Dhaka Stock Exchange general index (DGEN) fell by almost 8 per cent, has long been smouldering. Last month there were similar demonstrations to those yesterday when the market fell by around 7 per cent, triggering panic among investors. Since early December, the index - which had climbed by more than 80 per cent in 2010 - has fallen by 27 per cent.
The problem, say experts, is that the booming stock market had in recent years become deeply overvalued, something that had been ignored as investors enjoyed massive gains. Amid demands that it act to address the situation, the authorities had recently taken a series of steps to limit the percentage of deposits that banks can invest in the market and cool the situation. As a result, many larger, institutional investors decided to withdraw from the market, a move that set off the hysteria.
"This was coming - it was only a matter of when it would take place," said Mustafizur Rahman of the Centre for Policy Dialogue, a Dhaka-based think-tank. "The market had been heating up for quite a time, particularly over the last year. There was too much money chasing too few shares... This is a correction."
Observers say that many of those taking to the streets yesterday were among more than 3 million new, small-sized investors who had been attracted to the stock market in the last few years. Keen to cash in on the heated-up market, they had placed their money in shares rather than putting it in traditional bank deposits or savings accounts.
Many of these so-called retail investors may have had little investment expertise or knowledge about the companies in which they were putting their money. "They thought this would be a way for them to raise some capital from the markets," said Professor Arindam Banik of Delhi's International Management Institute.
But when the markets started to collapse, countless numbers of smaller investors were left ruing their decision to invest in stocks. "I poured all my money into the Dhaka stock exchange," investor Humayum Kabir, who had lost 60 per cent of his family's 2.5m taka (£22,000) in savings, told the Agence France-Presse. "The finance minister lured us into the stock market, he told us it was safe, but now we have lost everything. They artificially jacked up the prices of junk shares and now our savings have vanished."
The instability is the last thing needed by Bangladesh and Mrs Hasina's Awami League-led government. Even though the country's economy is growing by around 6 per cent, inflation is booming, especially the price of food and basic essentials. The country is also still recovering from political turmoil; last month Bangladesh came to a halt after the main opposition party, the Bangladesh National Party, headed by former prime minister Khaleda Zia, called a national strike. The dispute was essentially triggered by a decision to evict her from a grace-and-favour house in the centre of Dhaka but the incident took on national ramifications when the country's businesses and offices were forced to close.
The DSE, which was first incorporated in 1954 when the country was still part of Pakistan, is tiny compared to other regional or global markets. But the stock market is made up almost entirely of local investors with just 1 per cent of domestic shares being held by foreigners. The impact of a further collapse could have terrible consequences for a country of 160 million people already struggling with huge social, economic and environmental problems.
Last night, as they prepared for trading to restart, officials in Bangladesh were hoping that investors would not panic further and trigger a further collapse similar to that in 1996 when almost 80 per cent was wiped from share prices. Yeasin Ali, deputy head of the SEC, told reporters in Dhaka: "We are calling for people to be calm - if the market crashes again it could cause a crisis in the broader economy."
* Laos, one of the last remaining communist states in the world, will today open its first stock exchange in an attempt to boost its economy. In recent years, the country has struggled to attract the increased inward investment enjoyed by its more economically liberal neighbours.
The Lao Securities Exchange, based in the capital Vientiane, will initially offer shares in just two companies, Electricité du Laos Generation Company (EDL), the country's major energy enterprise, and the Banque Pour Le Commerce Exterieur Lao. There are expected to be restrictions on foreign investment.