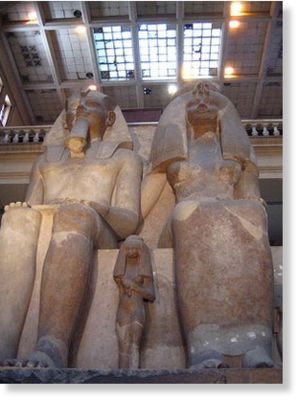 Egyptian archaeologists have unearthed six missing pieces from a 3,400-year-old colossal double statue of King Tut's grandparents, the Supreme Council of Antiquities announced Sunday.
Belonging to the statues of King Amenhotep III and his wife Queen Tiye, the fragments were found at the pharaoh's mortuary temple in Luxor during work to lower the ground water on the west bank of the Nile.
Currently a centerpiece of the main hall at the Egyptian Museum in Cairo, the double statue was unearthed in 1889 at Medinet Habu on the west bank of the Nile by French Egyptologist Auguste Mariette.
"When the statue was first discovered an Italian team restored it and filled in the missing pieces with modern stonework," Dr. Zahi Hawass, Secretary General of Egypt's Supreme Council of Antiquities, said in a statement.
Ranging from 47 cm (18.50 inches) to 103 cm (40.55 inches), the uncovered fragments belong to the right side of Amenhotep III's chest, crown and leg.
The other pieces come from a section of Queen Tiye's wig and from her left arm, fingers and foot.
The ninth ruler of the 18th Dynasty, Amenhotep III (1390-1352 B.C.) reigned for 38 years during a time when Egypt was at the height of prosperity and cultural development.
His mummy was found in 1898 in a tomb dubbed KV35 by French Egyptologist Victor Loret. Buried in the same tomb was an unidentified mummy known as the Elder Lady.
Recent DNA test
has identified the mummy as Amenhotep III's wife Tiye, the daughter of non royal couple Yuya and Thuya.
Amenhotep III's funerary temple was the largest in ancient Egypt and was guarded by two (still standing) gigantic statues of the Pharaoh, known as the Colossi of Memnon.
Unfortunately, the temple was demolished during the Late Period, and its blocks were reused in the construction of other buildings.
In the past two archaeological seasons, the site has yielded five double statues of King Amenhotep III in the company of different deities, including Re-Horakhti, Khepri, Horus and Hapi.
The recovered fragments are now being stored in the west bank magazines for documentation and restoration.