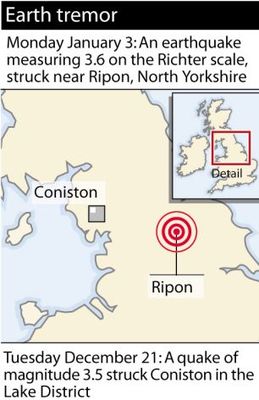 Earthquake measured 3.6 on the Richter scale - People living near the epicentre describe a 'rumbling' noise
The second earthquake in a fortnight rocked the North of England last night.
People near the epicentre in Ripon, in North Yorkshire, reported hearing what they described as an 'explosion' or a 'rumbling' when the quake hit.
It measured 3.6 on the Richter scale and experts estimate the tremor happened four miles below ground level.
Just a fortnight ago Coniston, in Cumbria, was struck by tremors measuring 3.5.
Last night's earthquake happened just after 9pm and caused worried people to run from their homes to safety.
It was felt across Cumbria, Greater Manchester and West Yorkshire.
Chris Allinson, 17, was watching television with his family in Ripon when the quake rattled their home.
The A-level student, who is studying at Giggleswick School, said: 'I heard a loud rumbling like the sound of a big tractor passing the house outside.
'Things started shaking and the dogs started barking. It got louder and louder and I jumped up to get outside.
'Then there was just this rush of sound like a snowdrift falling from a tiled roof, and after that, silence. We stood outside and stared at each other.'
Staff at the Swinton Park Hotel in Masham, 10 miles from the epicentre of the quake, also felt the earth move.
One of the front of house staff, a 27-year-old who did not wish to be named, said two quakes hit the hotel.
She said: 'The first lasted three seconds or so and rattled everything on the shelves. Seconds later there was a second quake, shorter this time.
'I thought, "That was an earthquake", but then thought it could not have been - you don't get earthquakes in Yorkshire.'
The British Geological Survey said the tremor struck about six miles west of Ripon.
'Many people throughout the region have reported having felt this event,' the organisation said.
Dr Aoife O'Mongain from the BGS added: 'It would have only lasted for a couple of seconds.
'And at that strength it is not likely that it would have caused any damage.
'People living in the vicinity may have felt their windows rattling as if a lorry was going past.'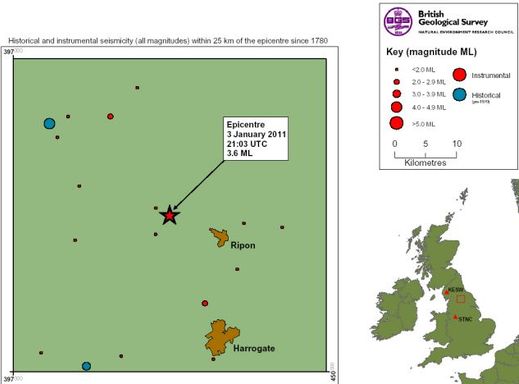 Inspector Chris Wright of Cumbria Police said the force received two calls from members of the public in the Kendal area reporting a tremor.
He said: 'There have been no reports of injury or damage so we notified the British Geological Survey for them to investigate.'
Cumbria Fire Service, Lancashire Fire Service and Lancashire Police all said they had not received any calls from the public.
Other recent quakes in the UK include one in February 2008, when a major tremor centred on Lincolnshire shook much of the UK, causing damage to buildings and leaving at least one person injured.
The tremor - which measured 5.2 on the Richter scale - struck at around 1am on February 27 at Market Rasen, Lincs.
And in Kent in April 2007, another tremor measured 4.3 on the Richter scale.
Homes were damaged as chimneys toppled, walls cracked and masonry fell as the tremor hit Folkestone.
North Yorkshire Police said: 'We received 999 calls with reports of chandeliers rattling, floors shaking and loud noises - but no injuries.'