Isabelle Caro, a French actress and model whose anorexic image appeared in a shock Italian ad campaign, has died at the age of 28.
Her longtime acting instructor, Daniele Dubreuil-Prevot, said that Caro died on November 17 after returning to France from a job in Tokyo.
Dubreuil-Prevot said she did not know the cause of death but that Caro 'had been sick for a long time,' referring to her anorexia.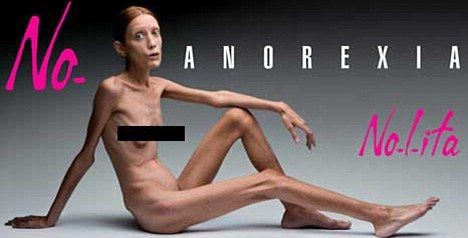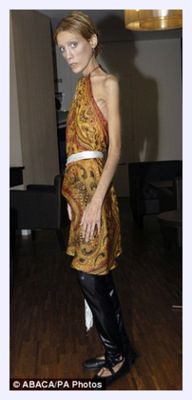 Caro featured in an ad campaign by Italian photographer Oliviero Toscani in 2007 for an Italian fashion house.
Under the headline 'No Anorexia,' images across newspapers and billboards showed Caro naked, vertebrae and facial bones protruding.
At 5ft 4in, she is reported to have weighed just 4st 8lb (68lbs) at the time.
Caro, who had her own blog site, said she had suffered from anorexia since she was 13 as the result of a 'difficult childhood'.
At the time of the campaign, she wrote: 'I've hidden myself and covered myself for too long. Now I want to show myself fearlessly, even though I know my body arouses repugnance.
'I want to recover because I love life and the riches of the universe. I want to show young people how dangerous this illness is.'
The campaign was paid for by Italian clothing company Flash & Partners to publicise a fashion brand for young women called Nolita and the photograph was taken by Italian photographer Oliviero Toscani.
Flash & Partners said in a statement at the time that Toscani's aim was 'to use the naked body to show everyone the reality of this illness, caused in most cases by the stereotypes imposed by the world of fashion.'
Caro appeared on Jessica Simpson's TV show
The Price of Beauty
where she discussed her body issues.
In 2008 she released an autobiography called
The Little Girl Who Didn't Want to Get Fat
.