Here we are again. It was just last week when meteorologists were pulling out their hair trying to determine the ultimate track of a winter storm off the East Coast.
That particular storm stayed far off the coast to miss the majority of the major cities of the Northeast along the I-95 corridor (although it dumped several inches of snow over Cape Cod, Massachusetts).
With the Christmas weekend approaching, another major winter storm could potentially create a holiday travel nightmare for millions.
We are confident that a major storm will develop off the East Coast of the United States on Sunday, December 26.
There is high uncertainty however when it comes down to location; i.e. the winter storm's proximity to the East Coast as it marches north from the Mid-Atlantic to New England.
There are two different scenarios that can play out this weekend and early next week. Let's take a look at each one.
Scenario 1: Hugging the East Coast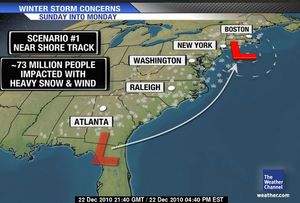 One computer weather model has been very consistent from one model run to the next for days now.
[
A model run, by the way, is the time when a computer program produces a possible future weather scenario given the atmospheric conditions at the present time. Generally speaking, this is done about 2 to 4 times a day (a few weather models, however, are run every 2 to 3 hours)
.]
It portrays a tremendous and dangerous winter storm developing off the coast of the Carolinas on Sunday morning then rapidly intensifying. By Monday morning, the storm is a monster located just off the coast of the Virginia and Maryland.
Heavy snow is accumulating quickly accompanied with vicious east and northeasterly winds.
Yes we are talking potential
blizzard
conditions at times for Washington, DC, Baltimore, Philadelphia and New York City. Some areas would easily see a foot of snow or more.
Heavy snow and high winds would eventually push into southern New England by the early afternoon hours of Monday and continue into the wee hours of Tuesday morning before the storm finally makes an exit.
Scenario 2: Glancing Blow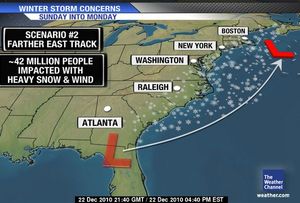 As was the case in the first possible scenario, a coastal storm will take shape and strengthen off the Southeast coast of the United States on Sunday morning and rapidly intensify as it pushes north.
In this scenario, however, the storm's proximity to the East Coast is just far enough offshore that it provides only a glancing blow of snow and wind to the coastal communities of Virginia, Maryland, Delaware, New Jersey, Long Island, Connecticut, Rhode Island and Massachusetts.
If this storm track came true, nearly all major cities of the Northeast I-95 corridor would miss out on the snow. The exception would be Boston which might see some accumulating snow on Monday morning.
Even with no snow in the picture, it will remain quite windy throughout the Northeast with wind chills in the teens and single digits.
Scenario #3: In the Middle
Well, I tried to keep it simple with two different scenarios but I must consider a third track.
We're talking about a storm track that falls in between scenario 1 and 2. In this track, northeast North Carolina and eastern Virginia would first see some decent accumulating snow as the storm develops just offshore from the Outer Banks of North Carolina.
However, the I-95 cities of Baltimore, Washington, DC and even Philadelphia would miss out on the heavy snow action almost entirely. New York City would experience light to occasional moderate snow but really miss out on the bullseye of heaviest snow. (Winds of course will still be quite fierce even without any snow).
Where would that "bullseye" be? Far eastern Long Island, eastern Connecticut, all of Rhode Island and eastern Massachusetts. Yes, the cities of Providence and Boston would squarely fall in this heavy swath of snow. This is where 6 to 12 inches of snow (or even more) would be situated.
Southern Snow
No matter what scenario plays out along the East Coast, confidence is growing that snow will greet parts of the South on Christmas Day through Sunday, December 26.
The same storm that will eventually track along the East Coast will first dive into the South and drop snow and/or sleet over parts of Mississippi, Tennessee, Alabama, Georgia and South Carolina.
The exact area of the heaviest snowfall is not known at this time but accumulation of more than 1 inch is a real possibility.
The Interstate 40 corridor across Tennessee could be one area dealing with dangerous road conditions on Christmas Day.
In eastern North Carolina, snowfall totals could be considerably more with some locales potentially picking up more than 6 inches.
As you begin your Christmas travels and celebrations, stay tuned to The Weather Channel and check out weather.com as the winter storm track becomes clearer and forecast snow totals are issued on Thursday and Christmas Eve.
Map
:
Snow Forecast Next 48 Hours