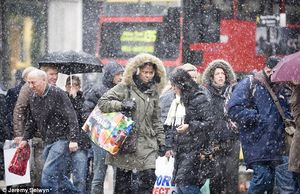 Millions begin the big Christmas and New Year getaway early as the AA urged motorists to beware of the 'worst driving conditions imaginable'
Quarter of train services disrupted, travel warning in Kent
Experts warn of a backlog of up to 4 million of parcels which could remain undelivered this Christmas
The NHS issues an urgent appeal for blood donors as concerns grow over shortages
Councils reveal plans to share grit amid fears the cold snap could last until January 14
Odds shortened even further on a 'White Christmas' in some parts of the country next Saturday
Swathes of Britain skidded to a halt today as the big freeze returned - grounding flights, closing rail links and leaving traffic at a standstill.
And tonight the nation was braced for another 10in of snow and yet more sub-zero temperatures - with no let-up in the bitterly cold weather for at least a month, forecasters have warned.
The Arctic conditions are set to last through the Christmas and New Year bank holidays and beyond and as temperatures plummeted to -10c (14f) the Met Office said this December was 'almost certain' to become the coldest since records began in 1910.
The latest snowfall carpeted large swathes of Britain today - with up to 5in falling in places - paralysing roads and rail, and forcing airports and schools to close.
Forecasters warned the worst was still to come over the next 24 hours as the heaviest December snowfall for 30 years tightened its grip on the nation once more.
The South is expected to be worst hit with up to 10in falling during the course of tomorrow. By the start of next week temperatures are set to fall to as low as -15c (5f).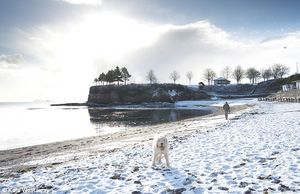 Met Office forecaster Barry Gromett said the average mean temperature for the first two weeks of this month was -0.7c.
The coldest ever average for this time of year - recorded in December 1981 - was 0.2c.
He said: 'A significant amount of snow will fall over the next 24 hours, particularly across southern England.
'Further snow showers are likely to hit Wales and the west before moving eastwards on Sunday.
'It is going to remain very cold right through to the middle of next week with widespread overnight frosts and ice.
'Temperatures are likely to drop into the minus teens in places, with towns and cities as cold as -8c (18f).
'It's going to stay like this throughout Christmas and New Year, but by the middle of next month things will slowly return to normal and we could perhaps see the beginning of the end.
'Nevertheless, this December is almost certainly going to become the coldest since records began in 1910.
'It's already a lot colder than the previous record which was set in 1981.'
The Met Office tonight issued heavy snow warnings for northern Scotland, Northern Ireland, Wales and south-west England.
The arrival of yet more snow and ice increased fears that the four million Christmas parcels yet to be delivered would almost certainly grow in number over the coming days.
Simon Veale, director of parcel and carrier management firm Global Freight Solutions, said dealing with the backlog - up to three days in places - was like 'bailing water out of a sinking ship'.
'This year, in Scotland and the North East, it is likely Father Christmas won't be coming,' he added.
'There are likely to be more than four million new parcels in the system every day this week on top of several million more which still had to be cleared from the recent extreme weather.
'If there are additional falls of snow, as the weather forecasts are suggesting, the unhappy situation will be compounded further still.'
The Royal Mail said it was planning to deliver 7,000 rounds on Sunday to around one million addresses.
'This is already the worst December weather the UK has seen for almost 30 years,' said managing director Mark Higson.
'Like other essential services, we have faced major difficulties with items moving in and out of areas most impacted by snow and ice, particularly Scotland and north-east England.
'We will continue to do everything in our power to deliver as quickly as possible.'
Transport Chaos
Air
Belfast International, Belfast City, Inverness, Aberdeen, Norwich, Isle of Man and Exeter airports were all closed today.
Newcastle, Birmingham and Luton airports were experiencing disruption. London City was closed earlier but reopened.
Possibility of disruption at Gatwick and Heathrow over the weekend. Budget airline easyJet has cancelled all its flights in and out of Gatwick airport between 6am and 10am tomorrow.
Roads
Delays on the M1 in Bedfordshire, the A12 in Suffolk, the A5 in Buckinghamshire, the A595 in Cumbria and the A303 in Somerset.
A series of accidents meant tailbacks on the A14 in Cambridgeshire, the M40 in Buckinghamshire, the A20 in Kent and the A12 in Suffolk.
A 50-mile stretch of the A9 in Scotland was blocked by snow and many roads north of the border were in a poor condition.
Rail
All rail routes through York were disrupted today, with Northern Rail having to replace trains with buses between Cattal and York.
Problems at Romford in east London led to morning rush-hour delays to National Express East Anglia train services into London's Liverpool Street station.
Southeastern will be running a contingency timetable tomorrow following difficulties in the Ramsgate and Ashford areas in Kent, while overhead wire problems are causing delays on the c2c London to Tilbury and Southend line.
In Wales, no services were running today between Newport and Hereford and bad road conditions meant that replacement buses could not operate. There was also no service between Holyhead and Bangor.