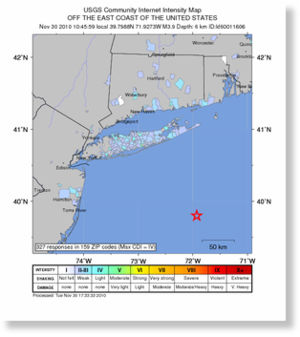 A minor, 3.9 magnitude earthquake was confirmed Tuesday morning off the coast of Long Island.
According to the U.S. Geological Survey, the quake occurred just over 80-miles from Southampton and 122 miles southeast of New York City. A handful of East End residents, from East Hampton to Southampton have reported feeling the quake, which a dispatcher from Southampton Town Police said shook police headquarters in Hampton Bays for seven seconds.
No injuries or damages have been reported as a result of the quake.
.