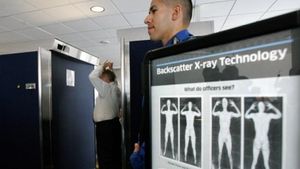 Despite the firestorm of controversy over the use of high-tech body scanners at airports, the hundreds of millions of dollars that the Transportation Security Administration is spending or looking to spend on them makes it unlikely that they'll be getting shelved anytime soon.
Each scanner costs about $130,000 to $170,000, the agency said, and President Obama's budget request for this year calls for $88 million to buy and install 500 new scanners.
The TSA already has already spent $80 million on body scanners, including $73 million received in stimulus funds.
Needless to say, the technology is big business, and the two companies that supply the scanners to the TSA, L-3 Communications and Rapiscan Systems,
have a record of using high-powered political operatives and lobbyists to influence lawmakers
. A number of other companies also are vying for future government contracts.
"TSA competitively bids technologies and makes selections through a comprehensive research, testing, and deployment process," the agency said in a written statement. "Technologies must meet detection standards and TSA tests these technologies in both laboratory and field environments."
"As companies develop new and emerging technologies, they can be included in the competitive process," the agency said.
L-3 Communications, which has sold $39.7 million worth of machines to the TSA, has spent $4.3 million on lobbying the federal government thus far this year, though it is not clear how much of that money was spent on lobbying the TSA. Among the key figures lobbying on L-3's behalf is Linda Daschle, wife of former Senate Minority Leader Tom Daschle, the South Dakota Democrat.
Rapiscan, which has sold $41.2 million worth of body scanners to the TSA, has spent $221,500 on lobbying the federal government. Former Homeland Security Secretary Michael Chertoff worked briefly last year as a consultant for Rapiscan, but the company said the work was unrelated to the federal government.
"Mr. Chertoff and his staff of experts provided Rapiscan with advice and analysis with respect to a limited set of well-defined subjects unrelated to aviation security," Peter Kant, executive vice president of the company, said in a written statement. "Chertoff Group's activities in that engagement were advisory, and neither Mr. Chertoff nor his staff has ever represented Rapiscan in any communication with the U.S. government."
An official with L-3 Communications told FoxNews.com that the company reported nearly $16 billion in revenues in 2009 and that most of its lobbying money is spent on defense and service branches.
The official said that any company certified to sell body scanners to TSA goes through a two-year process of having the machines tested in a laboratory and a pilot program before they are accepted.
L-3 Communications began its contract with TSA nearly a year ago.
Sheila Krumholz, executive director of the Center for Responsive Politics, which tracks lobbying expenditures on Capitol Hill, said it's common for these companies that have or hope to have contracts with the government to invest in lobbying that can lead to "make or break moments."
"In this case, $4.3 million is an enormous amount of money but a small price to pay for the potential profits they could reap," she said, adding that without the money, companies may not be able to make their case "forcefully enough."
"From our perspective, we want to put a spotlight on the money," she said. "It's big bucks, big business. Where it has an impact on policy decisions, we need public oversight. We need the public to take the time to understand the players involved, the money involved and what the outcome is involved."