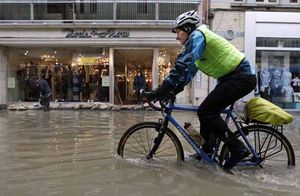 Belgian authorities called in the army Sunday to assist with emergency evacuations after severe flooding killed two people in the southwestern region of Beaumont, near the French border.
A 72-year-old woman drowned overnight after her husband lost control of their vehicle, Lt. Fabrice Pierart of the local firefighters told Belgian broadcaster RTL. A second victim, who was on his way home, was found just metres away, Pierart said.
"This is a catastrophe for our region," the mayor of Beaumont, Charles Dupuis, told RTL.
Officials described the flooding as the worst in 50 years. The national weather service said that in two days Belgium absorbed as much rainfall as it normally gets in a month.
Rivers and creeks overflowed in the western and central parts of the country, causing basements and streets to flood in scores of towns and cities. Rail traffic was seriously interrupted on Sunday morning, but returned slowly to normal in the afternoon.
Local authorities called in the army and civil protection units to reinforce firefighters who had been working overnight. The situation appeared particularly serious in the Brabant region, just outside Brussels.
Prime Minister Yves Leterme said there was no need to declare a national emergency but said his government was following the situation closely.
Source: The Associated Press