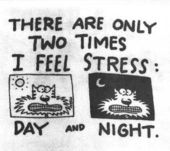 A considerable number of Americans are trapped in a vicious cycle of unhealthy attempts to manage their high levels of stress, which limits their ability to make beneficial behavioral or lifestyle changes. 2010 Stress in America, a new study released by the American Psychological Association cautions that the impact of long-term (chronic) stress can leave serious physical and emotional consequences for individuals and their families.
A 2010 Harris Interactive survey reveals that many people, especially those who believe they are in fair or poor health, claim to lack the willpower and opportunity to make useful changes that would improve their lives.
Parents also appear to be unaware of the effect the stress they have to bear is having on their children. A growing number of young children are describing emotional and health consequences typically linked to stress.
Norman B. Anderson, PhD, American Psychological Association's (APA's) chief executive officer and executive vice president, said:
America is at a critical crossroads when it comes to stress and our health. Year after year nearly three-quarters of Americans say they experience stress at levels that exceed what they define as healthy, putting themselves at risk for developing chronic illnesses such as heart disease, diabetes and depression.

Stress is hurting our physical and emotional health and contributing to some of the leading causes of death in this country. People are also saying they have difficulty implementing the changes they know will decrease their stress and improve their health. Yet, our health care system is not adequately addressing this issue or providing the behavioral health treatments that can help Americans. All of us, including the medical community, need to take stress seriously since stress could easily become our next public health crisis.
The impact on children
Overweight or obese children were found to have significantly higher incidences of stress; most said their parents were always or often stressed four weeks prior to being surveyed. This link between overweight/obesity and stress also exists among adults.
31% of overweight/obese children worry a great deal or a lot, while 14% of children of normal body weight do the same. 36% of overweight/obese children worry about their looks, compared to 11% of normal-weight kids.
39% of overweight/obese children say their parents are stressed out often or always, compared to 30% of normal-weight kids.
The survey identified a clear link between overweight in children and physical/emotional health consequences linked to stress, and the unhealthy management of stress. When asked whether they had experienced any of the following during the previous twelve months, this is how they responded:
Have you had trouble falling asleep?
Overweight children 48%. Normal weight children 33%.
Do you get headaches?
Overweight children 43%. Normal weight children 28%.
Have you been eating too much or too little?
Overweight children 48%. Normal weight children 16%.
Have you been feeling angry or getting into fights?
Overweight children 22%. Normal weight children 13%.
Do you eat to make yourself feel better when you are stressed or worried about something?
Overweight children 27%. Normal weight children 14%.
Do you take a nap to make yourself feel better when you are stressed or worried about something?
Overweight children 26%. Normal weight children 15%.
The effect stress is having on families
When asked to rate their levels of stress from nothing (0) to maximum (10), 32% of parents rated theirs at 8 to 10, what the authors of the report describe as extreme levels of stress. The vast majority of parents say they are enduring levels of stress which go beyond their definition of healthy. The average stress score reported by all parents in the survey was 6.1. Those who described their stress levels as healthy scored an average of 3.9.
69% of respondents believe that managing stress is either very or extremely important. Unfortunately, and perhaps worryingly, only 32% feel they are doing either a very good or excellent job of managing their stress. The majority of the children of parents enduring very high levels of stress say there is a negative impact on the family.
Parental unawareness of the impact of stress on the family could have far-reaching consequences on each member's emotional and physical short-term and long-term health. While 69% of stressed parents say the impact on their offspring is zero or very slight, only 14% of children say their parent's stress does not upset or bother them. 34% of kids reveal that they know that when their parent(s) shout it is due to stress or worry.
17% of children who said that a parent is perpetually stressed reported having a lot of stress themselves, compared to 2% of children who said their parents are never stressed.
Below are some more highlighted figures revealed by the survey:
47% of tweens (aged 8 to 12) and 33% of teens report feeling sad
36% of tweens and 43% of teens claim to feel worried
25% of tweens and 38% of teens claim to feel frustrated when their parents are stressed
56% of parents find that getting their family members to eat healthily is an ordeal
54% of parents say they find getting their family to be physically active requires either some or a lot of effort
36% of tweens and 66% of teens listen to music when they are stressed
56% of tweens and 41% of teens play computer/video games when they are stressed
34% of tweens and 30% of teens watch television when they are stressed
Katherine C. Nordal, PhD, APA's executive director for professional practice, said:
Even though children know when their parents are stressed and admit that it directly affects them, parents are grossly underestimating the impact that their stress is having on their children. It's critical that parents communicate with their children about how to identify stress triggers and manage stress in healthy ways while they're young and still developing behavioral patterns. If children don't learn these lessons early on, it could significantly impact their physical health and emotional well-being down the road, especially as they become adults.
Full Report
"Stress in America 2010"